26 tips to boost your health, productivity and motivation at work?

To be more productive at work isn't rocket science, all you need is to make up your mind and stay motivated to make the best use of your time. Stop spending long hours at work and start following these 26 tips from today to maintain good health and achieve higher productivity and motivation at work:
Write a to-do list the night before. It will help you plan and organize the work in a more productive way.  

Breakdown large tasks into smaller, more manageable chunks.

Do the larger or more tedious tasks when you are more motivated. I.e. first thing or after lunch.

Track how long you spend on tasks. It can help you understand where your time goes and how long future tasks can take.

No multitasking – focus on one task at a time and move on to the next when you have finished.

Re-list tasks you don't complete. There's always tomorrow to finish them (if it's not urgent).

Group tasks into urgent, important and would like to do. It will help you to focus on what to do first.

Change it up and find an alternative place to work, like outdoors or in a cafe.

Have a tidy and organized workspace.

Drink plenty of water.

You are what you eat at work! So always try to eat healthy meals and snacks while at work.

Batch routine small and similar tasks together to complete in one go, rather than throughout the day.

Listen to some music or a podcast. It can help by adding rhythm to repetitive tasks.

Overestimate the time it takes you to finish tasks. Better to finish sooner than expected,   than later.

Set deadlines for tasks in advance and write them down.

Don't ever commit or take on more work when you don't have time to finish it. Learn to say no.

Unsubscribe and delete unwanted email.

Buy nice stationery to put some color/personal touches to your desk and make you feel good.

Reward yourself after finishing tasks or at the end of the day or week.

Sitting long hours at your desk might be harmful to your body, try to stretch your arms and legs from time to time.

Celebrate wins, no matter how small or big they are.

Turn off your phone or notifications. No distractions.

Schedule tasks and appointments in your diary. Use an alarm to remind you.

Get out of the office for a walk etc to clear your head.

Block out time on your calendar or day to work on a set task – great tip if you work from home.

Just do it! Stop wasting time and just get work done.
If you are in HR or you are a manager at your workplace and you would like to find out how CircleCare Corporate Wellness App can take your team's health, productivity and motivation at work to the next level, contact us now.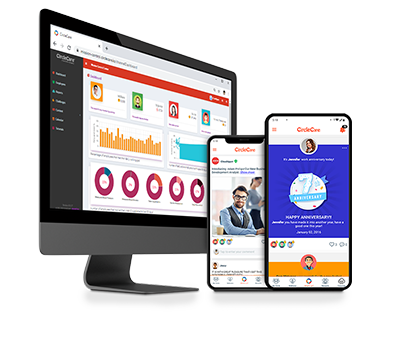 Corporate Wellness App
CircleCare
CircleCare employee engagement platform provides companies with a platform and tools to motivate their employees via positive reinforcements and rewards to establish and maintain healthy lifestyle choices.