The health of employees and the impact on work performance
Modern-day organizations realized that the health of employees and impact on their work performance are interlinked with each other. There was a time when efforts were induced to improve employee productivity only through reward and recognition. This undoubtedly gave positive results but, it was also observed that the rate of employee productivity went down over a period. The direct responsibility of an employee automatically increases with their seniority in case of promotion. This further brings in the requirement of multitasking, working for long hours, etc. Employees never realize that their stress level also increases unknowingly. The stressed employee at any level of the organization never produces optimal output. Human Resource departments across organizations, therefore, started focusing on employee's health aspects to improve their work performances. Several studies and researches prove that a healthy workforce boosts up a company's profit in the long run. Corporate wellness, therefore, stands as the most effective way to make a healthy workforce producing an increase in employee work performances. Let us learn more about the necessity of corporate wellness.
5 positive impacts of a healthy workforce
Reduction in employee's medical expenses and health care cost
Minimize the problem of absenteeism.
Increase in work productivity
Increase in employee efficiency
Increase in Motivation and morale
Having said so, let us learn what corporate wellness is and what makes it important.
Why Corporate wellness?
Corporate wellness remains an innovative way to increase workforce productivity by monitoring health of employees. Corporate wellness programs come with long-term goals. It is globally observed that bad diet and an unhealthy lifestyle seem to be the primary reasons affecting an employee's health. A Corporate wellness program ensures that an employee stays fit while working and get into a healthy lifestyle. There are various ways a corporate wellness program is managed in an organization to collaborate with the employees. One of the best ways is a corporate wellness app like CircleCare that keeps track of employee's health and simultaneously offers a reward for being healthy.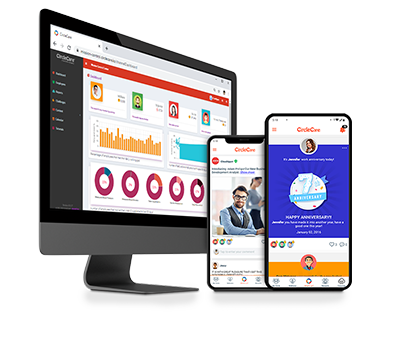 Corporate Wellness App
CircleCare
CircleCare employee engagement platform provides companies with a platform and tools to motivate their employees via positive reinforcements and rewards to establish and maintain healthy lifestyle choices.
You might also like to read: Top 10 reasons to implement a corporate wellness program
5 reasons why corporate wellness is an absolute need for any organization
Reduction in sick-leaves means more man-days
Improvement in work performance
Solves the problem of presenteeism.
3 best ways to put a Corporate Wellness program in place
Engaging employees among each other in health contests like weight loss, etc.
Training and explain employees the benefits of a wellness program and the importance of being healthy.
Appointing a virtual wellness coordinator, like the CircleCare corporate wellness app which stays with employees while at work and outside work.
The Next Step
Things get much easier, motivating and exciting for employees when they get better engaging environment. Corporate wellness exactly aims into that and a corporate wellness app like CircleCare is specially designed for this purpose. Employees feel more connected when the employer takes care of their health and wellness. For the better health of employees and improve their work performances, Contact CircleCare.