How Do Corporate Wellness Programs Work?
There is a range of corporate wellness programs available nowadays. On one end of the spectrum are the casual and inexpensive ones that offer only some online information and the occasional newsletter. There are also some standard programs that offers HRAs (health risk assessments), some general recommendations, and newsletters. Sometimes they may even provide some form of online support for diet & nutrition management or motivational tips for a healthy lifestyle.
At the other end of the spectrum are providers like CircleCare who offer a holistic approach to corporate wellness program that combines all of these elements and some more, among other things, employee engagement tools, diet & nutritional tips, medication reminders, wellness partners for on-site training sessions, over the phone or online support from qualified health professionals, positive reinforcement for managing chronic disease, and incentives for healthy behaviors. Since the possibilities are just endless with this corporate wellness program, we are going to take a look at the way it works.
How an ideal corporate wellness program works?
CircleCare is an easy to use platform that helps users develop healthy lifestyle habits like being more active, taking medications on time, staying knowledgeable about diet, nutrition, and disease management trends, plus a whole lot more. Healthy habits like these deliver apparent benefits such as reducing the risk of chronic disease and improving focus and productivity.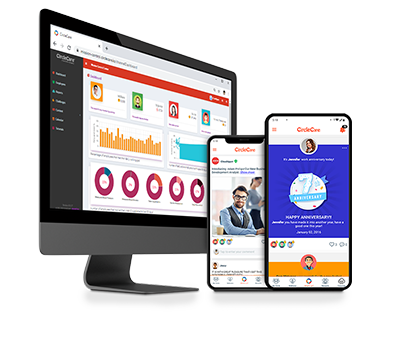 Corporate Wellness App
CircleCare
CircleCare employee engagement platform provides companies with a platform and tools to motivate their employees via positive reinforcements and rewards to establish and maintain healthy lifestyle choices.
CircleCare corporate wellness app works on four main aspects to ensure a holistic approach for achieving employee wellness:
#1 Engagement & Collaboration
CircleCare app comes with private and public communities to facilitate health education and the sharing of everyday health hacks. Private communities also increase engagement among co-workers and help them to build a collective and ongoing bond.
2# Healthy Diet & Nutrition Tips
With the help of Mission Control Center, CircleCare makes it easy to share a healthy diet and nutritional tips, videos, and general health-related educational content with the entire team and category-specific wellness groups. As you add new members to your corporate group, they will automatically gain access to any new content that you push through the platform.
#3 Track & Achieve Health Goals
The CircleCare App includes a complete health tracking system with an automatic step counter, blood pressure, and blood glucose log management module, and medicine alerts to help users to manage chronic conditions and improve their health!
#4 Positive Reinforcement & Rewards
The CircleCare App will keep your employees motivated with steps challenges, achievement badges, and regular encouragement. If that's not enough to get them motivated, they also earn CarePoints that are redeemable for real products and services sponsored by you and other CircleCare Partners!

CircleCare corporate wellness app work to establish healthy work cultures, improve employee engagement and implement strategies that reduce employee health risks and medical costs, increase morale and efficiency.
If you are a wellness champion at your workplace and you would like to find out how the CircleCare Corporate Wellness Platform can take your team's health to the next level, contact CircleCare now.