Employee engagement through the corporate wellness program
With the complexities in the modern day's organizational structure employee need to multitask at each level. In spite of de-centralization, the line of authority and span of control, all employees across functions take multiple work responsibilities. This means they need to collaborate and work collectively keeping their personal goal in-sink with the organizational goals. Organizations require their employees to stay engaged in their assigned work. Globally it is observed that the productivity of an engaged employee is more than those who are rarely engaged. The human resource department of every organization wants to maintain an engaging workforce. Gone are those days when employee motivation restricts according to the laid theories of Maslow and McGregor. Since the work complexities have increased, HR departments look for alternate ways of employee engagement. Wellness program in the corporates for employee engagement has gained immense popularity. This has given optimistic results with an increase in work productivity and collaboration. Employee engagement through a corporate wellness program is, therefore, the proven way to get an engaged workforce. Let us learn more about the wellness program.
What is a wellness program?
A corporate wellness program is primarily some set of selected health programs designed for the employees to keep them healthy and fit. Health and fitness remain crucial parameters that affect an employee's productivity. It is frequently seen that even after traditional reward and recognition systems employee's productivity decreases. This might be because of stress at work or personal life. A wellness program aims in maintaining a track of the employee's health. It becomes more rewarding, engaging and interesting through corporate wellness app like CircleCare. They not only keep a track of the employee's health but instantly reward them for being healthy.
How employee engagement through wellness program can be increased?
A wellness program not only increases employee engagement but it produces a positive effect on the overall organizational culture. Other than an increase in productivity, there is also an increase in the retention rate. Let us discuss a few key areas with a positive effect on employee engagement through a wellness program.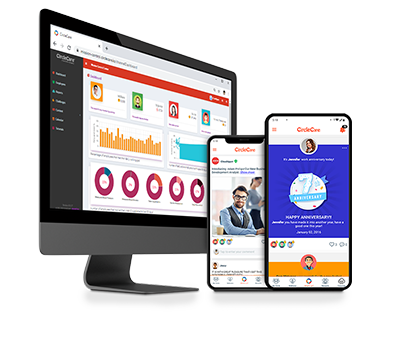 Corporate Wellness App
CircleCare
CircleCare employee engagement platform provides companies with a platform and tools to motivate their employees via positive reinforcements and rewards to establish and maintain healthy lifestyle choices.
Increases work relationships
A wellness program like a group fitness class or wellness challenge increases the employee's social connection in the workplace. The results are even better using corporate wellness apps like CircleCare. It creates a better engaging environment by connecting with peers through the app's social platform.
Maintain healthy behavior
Wellness programs aim to promote healthy habits among employees like sleeping on time, eating correct diet, exercising, etc. The employee feels more connected to the organization as issues related to their personal wellbeing get addressed. This increases employee engagement through the wellness program.

Reduce Stress
The biggest threat to employee engagement is stress. A wellness program is exclusively designed to reduce employee stress at the workplace. Stress – Management sessions, Meditation, and Yoga are few of the wellness programs that aim in reducing work stress.
What next?
Employee engagement through wellness program is highly effective. It not only increases employee productivity but increases their morale too. If you need help building a team of engaged employees through a wellness program, Contact CircleCare.