Top 10 Ideas For Corporate Employee Health and Wellness Programs
Corporate wellness programs are one of the most effective options for talent acquisition and retention. Corporate employee health and wellness programs make them feel cared for, and when that happens, they tend to be more engaged, productive and efficient. That's why it is quite important to choose the best programs for employee wellness. Because, if it is not designed and planned correctly, can tend to do more harm than what corporate wellness programs are designed for.
What is the Corporate Wellness Program?
Corporate wellness programs are activities that are designed to establish and maintain a healthy lifestyle of your employees. Generally, they are consists of wellness activities like health education, medical checkups, weight management, collaboration activities, and other fitness programs.
The health of your employee has a direct correlation with your organization's performance. If an employee is not mentally and physically well, it will affect their productivity. That is the reason; many corporates nowadays offer subsidized wellness activities with the hope that they will help improve employee health, morale, and productivity.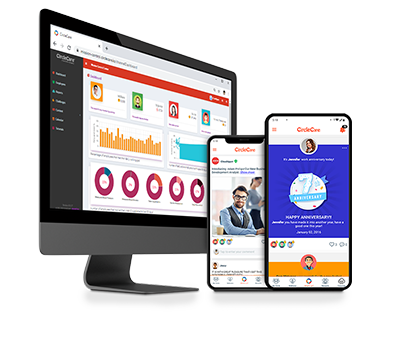 Corporate Wellness App
CircleCare
CircleCare employee engagement platform provides companies with a platform and tools to motivate their employees via positive reinforcements and rewards to establish and maintain healthy lifestyle choices.
Top 10 ideas for corporate wellness programs
There are many different ways you can try to motivate your employees to stay healthy. Here we have compiled some of them. These workplace wellness ideas can be practiced with a view to enhancing the performance of your workforce. They can be accommodating in improving your workforce wellbeing and building an effective corporate wellness program.
#1 Keep Your Employees Hydrated
Make sure your employees have free and convenient access to fresh and pure water to hydrate themselves. This should be your first step towards improving employee health. Staying hydrated helps your workforce to remain productive, lose weight and flush out toxins from their body.
#2 Regular Health Check-ups
Whether its seasonal flu or chronic health condition like hypertension or diabetes, regular free health check-ups for your employees can help them stay safe and combat these diseases. These check-ups can be helpful in identifying employee health risks and taking proactive efforts to take safeguard against them.
#3 Offer a Health Coach
To enhance the effectiveness of your corporate wellness program, a personal health coach can be a great option. Some of us do not feel attached to our health and the importance of following a healthy lifestyle. The best way to motivate them would be via a personal health coach. You can offer them fully or 50% subsidized subscription of a personal health coach of their choice.
#4 Arrange a Vaccination Campaign
Flu season can be quite troublesome and detrimental to the overall productivity of your organization with a higher rate of sick leaves. Try to keep a plan in your corporate wellness program to tackle these issues and conditions well in advance. Offer them the right vaccination for flu and pneumonia or similar other viral diseases by arranging a vaccination campaign at your workplace. It would go a long way in promoting your employee health.
#5 Arrange Fitness Sessions
As part of the corporate employee health and wellness program, online or offline fitness sessions can be arranged to educate your employees. Who doesn't want to stay fit, but not everyone has the convenience of working out. In such cases, you can make these fitness sessions mandatory and subsidized for everyone. This will can make your employees confident enough to take care of physical well being. This will not only help them improve their health condition but also make them engaged knowing that you are about their health.
#6 Competition, with incentives
Competition can be motivating, especially when there is a prize worth winning. Implement a points system for following healthy lifestyle and walking with incentives for rewards. Help employees reach their health and fitness goals.
#7 Offer a corporate wellness app
Offer a corporate wellness app to your employees. It will help them to engage with each other, stay motivated and can build a team within and beyond the organizational boundaries. When it comes to choosing excellent corporate wellness apps, try CircleCare. They are so good that they keep track of your employee's health, reward them for being healthy, gives them important reminders to take medicine, and manage chronic health conditions like diabetes and hypertension.
#8 Offer a healthy work environment
The environment that your employees work in is it healthy? The atmosphere around their workstation plays an essential role in their productivity, collaboration, and quality of work. How do you offer a healthy environment for your employee? Let's take the example of floor planning. Analyze the performance of your employees in different locations of the office and arrive at the best performance for each of your employees. Your employees need to be comfortable with the environment around their workstation, access to proper lighting and fresh air, noise level, etc.
#10 Volunteering
Volunteering can be an excellent opportunity for your employees to give back to society, or to work on something right as a team. A recent study found that volunteerism helped employees to improve their interpersonal and teamwork skills; they acquired new networking contacts and enriched their relationship with co-workers.

#10 Educate them on healthy lifestyle
Sharing common health hacks and ideas with your employees through an email newsletter or a mobile corporate wellness app can be one of the excellent options to educate your employees on healthy living. If you have issues concerning the creation of the content, you can take help from some of the healthy living champions within your workforce who are involved in healthy lifestyle activities.
In the end
Just like a rising tide lifts a boat, a corporate wellness program can make your employees feel comfortable in both their personal and professional life. Need help with building a complete corporate wellness program for streamlining employee perks? Contact CircleCare.