Corporate wellness program brings everyone together like family members
Corporate wellness is a program designed for the improvement and promotion of health and fitness of the employees at their workplace. Organizations and employers decide their own wellness program keeping in mind the lifestyle and needs of their workers. CircleCare App provides you all the help necessary to create an employee-friendly corporate wellness program that brings everyone together like family members. So that your business prospers even faster.
Why is a corporate wellness program necessary?
Once a vague term, corporate wellness programs are rapidly becoming an essential part of the corporate industry. Your employees give their best for the company and corporate wellness program is the best way to return the favor. Besides, maintaining a safe, healthy, and hygienic environment, it is beneficial for both the company and the employees.
Here are some benefits of implementing an effective corporate wellness program to your organization: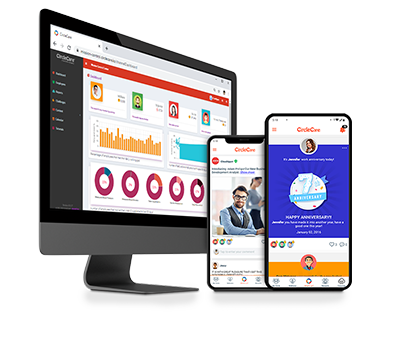 Corporate Wellness App
CircleCare
CircleCare employee engagement platform provides companies with a platform and tools to motivate their employees via positive reinforcements and rewards to establish and maintain healthy lifestyle choices.
Wellness programs are intended to create a healthy lifestyle which promotes the fitness of the employees.
Through a wellness program, your employees are evaluated regularly and any underlying disease can be identified at an earlier stage and managed accordingly. Saving you a big loss of both employee and money.
Where a lot of your competitors are spending a huge share of their budget on health care, an effective wellness program helps minimize the health care cost.
Wellness programs give you a cutting edge to attract and retain the finest employees to the safest environment. With enough value and perks, they know they are in the right place.
The main focus of a wellness program is the employee. And CircleCare ensures that all your efforts are centered on your employees. Because, if your worker is happy, you know you will be getting the best results.
Corporate wellness program brings everyone together like family members and helps your family grow stronger where everyone knows and takes care of each other.
Having a health facility set up at the workplace ensures that your workers are healthy and getting the best care. There are fewer disease incidents resulting in fewer absentees and a massive improvement in work rate.
Healthy working environment boosts the morale of the workers and helps in the development of healthy behavior among your employees.
How effective are corporate wellness programs?
Corporate wellness programs meeting the exact needs of the employees work amazingly. They reduce the health care cost of the organization to a minimum and create a conducive environment for the workers to show their maximum potential.

Today wellness programs are a part and parcel of a successful enterprise. From the famous google, Fitbit, and Zappos to the company in your neighborhood, everyone has a unique wellness program best suited for them.
How does Circle Care play a role in cooperate wellness program?
CircleCare App is all you need to make your wellness program effective. It brings all your options in one place for you to choose the best program for your employees. With the latest digital and social facilities, Circle Care App enables you to motivate and compare health status with your family, friends, and co-workers on your smartphones.