10 Ways to Improve Your Employee Experience – Right Now
A recent survey done on Employee Experience by Brilliant Ink and Versta Research sought to answer a simple question: Can organizations make small adjustments to the employee experience to achieve higher engagement? The answer is yes. Read this article to learn about the ways an organization can make those adjustments.
Recognize that employee engagement starts before the first day
82% of employees visit a company website when job hunting; only 32% find the information valuable. So, make sure your company website has a page for career opportunities that describes all the benefits your employees enjoy, as well as a clear job description.
Create accurate first impressions
89% say the interview process made them excited about working for their company. While 23% felt misled by it – and those are more likely to be disengaged. Work to craft an on-boarding program that makes a great first impression.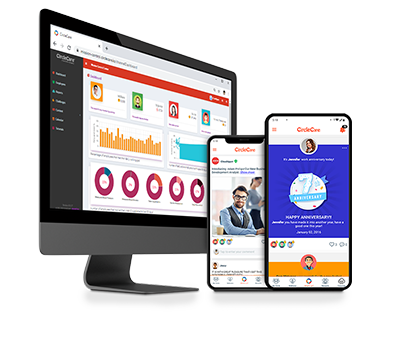 Corporate Wellness App
CircleCare
CircleCare employee engagement platform provides companies with a platform and tools to motivate their employees via positive reinforcements and rewards to establish and maintain healthy lifestyle choices.
Make the first day meaningful
92% feel welcomed, but 43% say their first day on the job was disorganized or confusing. Negative first impressions lead to lower engagement. So, make sure to facilitate a great experience by sending a first-day welcome announcement or greet him or her at the door and make sure their space.
Acclimate employees to the company and the job
77% participate in new hire orientation programs, and those who do are more engaged. Only 29% learn about their specific job during orientation. Those who do rate it the most valuable aspect.
Invest in a structured on-boarding process
If you want to retain the top talent, well-structured employee on-boarding is essential. 44% report little or no structure during on-boarding. Those with a structured on-boarding say it was relevant to their job (94%) and helpful in learning how to find information (85%).
When on-boarding, recognize that one size doesn't fit all
47% prefer to get a big work assignment right away. 53% prefer to take the first three months to learn the ropes. When it comes to guiding new employees to success, a one-size-fits-all approach just won't work. Instead, try differentiating your on-boarding to help them master their tasks and responsibilities.
Communicate about your company's mission and business strategy – and do it often
90% know their company's stated mission and values. 95% say it's essential to know about the company's business strategy, including corporate and financial issues. There should be internal communications strategies in place to convince employees of the authenticity, importance, and relevance of their company's purpose and strategic goals.
Connect the dots between your company strategy, mission, and employees' daily work.
39% say managers have not connected their work to company strategy in the last six months. Clear communication about the link between company strategy and daily work to foster higher engagement.
Keep talking to your employees. They're listening
Only 17% of communications from leadership are ignored. Most say leader communication is believable (87%), relevant (80%), and direct (65%). For example, set time aside when conducting both individual and group meetings for your employees to discuss their work experience and provide constructive feedback.

Show employees a path to success from the beginning
Most don't learn about career paths during interviews (58%), and on-boarding (66%) and 40% aren't hearing about it during performance reviews. Seeing a clear career path and discussing it at key points during employment increases employee engagement.
Care for them
When employees believe their employer cares about their health and well-being, they are more likely to be productive, engaged and ready to go the extra mile for the company. How do you care for them? Check out CircleCare app, it provides companies with a platform and tools to motivate their employees via positive reinforcements and rewards to establish and maintain healthy lifestyle choices.