Five Ideas to Fight Stress at Workplace
If you are stressed out, do not think that you are alone. Right now, there is almost 43 percent of the US workforce suffers from a high level of stress, too, according to the Society for Human Resource Management. This chronic stress results in absenteeism, turnover and lost productivity that costs US businesses more than $300 billion each year.
Stress also leads to severe health and productivity issues, including frequent neck pain and headaches, irritability, insomnia, and reduced efficiency. All of these conditions fuels the rise of healthcare costs. When you consider all these factors, it is not the perfect environment for an efficient and productive workplace.
Corporate wellness programs provide the platform, tools, knowledge, and on-site services that can help manage workplace stress levels. Even the smallest wellness initiative can go a long way in helping alleviate employees' stress. Here are five corporate wellness initiatives that companies can take to help reduce stress in the workplace.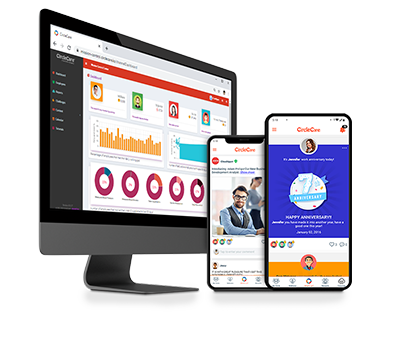 Corporate Wellness App
CircleCare
CircleCare employee engagement platform provides companies with a platform and tools to motivate their employees via positive reinforcements and rewards to establish and maintain healthy lifestyle choices.
1. Offer on-site chair massages
According to the Workplace Stress Survey by The American Institute of Stress,  62 percent of US employees end their day with some work-related neck pain. To resolve this issue, a chair massage can easily be arranged for those with tight neck muscles. Various studies have shown that even just 15 minutes of massage provides numerous benefits including reduced muscle tension & knots, headache, and increased focus and attention.
2. Host meditation classes
Medication can offer numerous health benefits to your employees like improved concentration, better decision making abilities, and alleviate stress. That is why more and more employers are teaching their employees how to meditate in a way that's understandable and effective. Especially mindfulness meditation is great for employees because it can improve memory, concentration, focus, and performance. Offer a weekly or daily meditation class with an expert or subscribe to an app to make it accessible by all your employees from anywhere they like.
3. Invite experts to teach tips for reducing stress
Mental health issues at the workplace are real. That is why companies are offering resources to help with stress management. It also shows the employees that the organization cares about their well-being. Bring in an expert to conduct an educational session or workshop to train them on how to reduce stress in both personal and professional life. A few examples of topics may include how to stay positive, budgeting 101, mindfulness, work-life balance tips, and reducing burnout.

4. Encourage employees to exercise
Exercise and other physical activity produce endorphins in the brain – that act as a natural antidote that reduces stress. Encourage your employees to be to more physically active through friendly gamification. Consider throwing a steps challenge to take 10,000 steps per day or sign up for a 50k as a team, track the results, and offer rewards for achieving the goal. A great way of conducting these challenges is via CircleCare corporate wellness app. It provides a gamified platform that encourages employees not only to be more active but also to engage and collaborate.
5. Provide health coaching services
7 out of 10 employees who completed a health coaching program would recommend health coaching to other employees. Health coaching helps rising and high-risk employees to gain the knowledge, skills, tools, and confidence to become active participants in their healthcare. It helps them to move toward better health and well-being. Health coaches meet individually with employees and every employee to challenge them to achieve their personal health goals.