Corporate Wellness Solutions For Well-Being of Your Employees
The health, safety and well-being of employees and employers play a significant role in the overall success and well-being of a company. Corporate wellness refers to any organizational activity or policy that has been designed to encourage healthy patterns and behavior within the workplace and to improve the overall well-being of your employees. When one talks about corporate health, it is usually referred to certain programs that have been put in place to motivate and help and instruct employees that participate in these programs. Corporate wellness has always been an important aspect within any industry and now more than ever, it is crucial that levels of corporate wellness remain at an all time high. Ensuring the health and well-being of your employees is crucial for a company to be able to sustain itself both during and after lock-down. It is important for corporate organizations to understand the benefits of making use of good and efficient corporate wellness solutions. 
CircleCare Wellness Solution 
CircleCare is an employee wellness application that has been designed to provide companies with a platform and with the necessary tools needed in order to motivate their employees via positive reinforcements and rewards to establish and maintain healthy lifestyle choices. CircleCare has also been designed to increase the levels of fun in engaging and motivating workforce to achieve their health goals and participate in custom challenges that have been created to improve health and well-being of your employees. This wellness solution focuses on important employee aspects such as physical wellness, social wellness and occupational wellness. 
Engagement 
CircleCare is an excellent tool to use in order to increase the levels of engagement among employees. This is because the application acts as a platform for employees to share updates about their everyday activities, start conversations about current affairs and share their achievements with those that are in their circle. By increasing levels of engagement among employees, employees become more familiar with and comfortable with their colleagues and thus are able to work better with one another.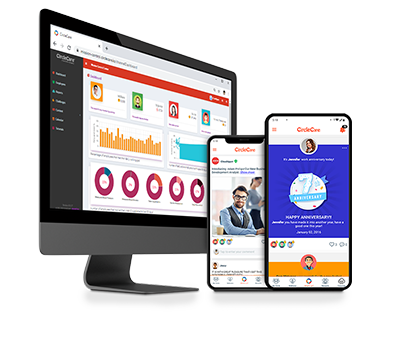 Corporate Wellness App
CircleCare
CircleCare employee engagement platform provides companies with a platform and tools to motivate their employees via positive reinforcements and rewards to establish and maintain healthy lifestyle choices.
Mental Support 
CircleCare also acts as a platform for colleagues and friends to provide mental support to one another. This can be done through employees encouraging one another through status updates and check-ins on the application. 
Physical Activity 
The physical activity aspect of CircleCare is most probably the most enjoyable part of the application. This is because users are able to create physical activities, physical challenges and set physical goals for themselves and their fellow employees. These physical activities include walking challenges, exercise challenges as well as fat burn challenges. CircleCare users are able encourage one another to participate in these challenges and motivate one another along the way, as well as enter their challenge results and receive rewards for their achievements!

Health Education 
Health education as well as health care knowledge is extremely important. This is why CircleCare is extremely useful and helpful for its users. Public circles include features such as arthritis knowledge groups, corona-virus updates, diabetes groups, fitness groups as well as healthy eating groups. These groups are filled with useful information and tips that users can use to better their understanding of certain health conditions and improve their overall health and well-being. 
In a nutshell, CircleCare is an corporate wellness solution that all organizations need to make use of as it has endless benefits for employees and employers! This employee wellness solution enables its users to engagement with one another, support one another and encourage one another. The solution also enables its users to be active and burn calories, regularly log vitals, learn from others and share personal experiences, and reminds its users to take medicine as required.