Using Corporate Wellness Program to Help Employees with Chronic Conditions
Chronic conditions are the health issues that last for more than three months. Some examples of fatal chronic conditions are diabetes, heart conditions, stroke and cancer which can become the leading causes of death. Examples of non-fatal chronic conditions include arthritis, musculoskeletal disorders, and psychological disorders. Both fatal and non-fatal chronic conditions may cause disability in employees.
Environmental and psychological factors at workplace and work conditions like hazardous job exposures and inflexible schedules also contribute to the chronic health issues or worsening of the existing health issues. In addition to these factors, there are lifestyle factors and unhealthy habits like consumption tobacco and alcohol, poor nutrition, and lack of physical activity.
Using Corporate Wellness Program plays a major role to help employees with chronic conditions, as employees spend most of the time inthe work environment. Nurturing the promotion and maintenance health of employees in corporate sectors is a key factor overall organizational success.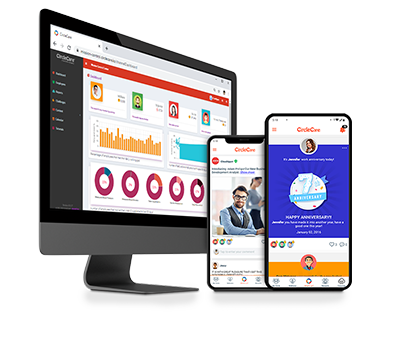 Corporate Wellness App
CircleCare
CircleCare employee engagement platform provides companies with a platform and tools to motivate their employees via positive reinforcements and rewards to establish and maintain healthy lifestyle choices.
Corporate Wellness Programs are designed to improve the health of the workers and is an effective way of promoting lifestyle modifications, and healthy behavioral changes. Corporate wellness programs help to reach a major segment of the population and effectively help to reduce risk factors that can cause chronic health issues.
Health initiatives like these are also recommended by organizations like:
National Institute for Occupational Safety and Health
National Institutes of Health
Center for Disease Control and Prevention
American Heart Association
American Cancer Society
How can Corporate Wellness Programs benefit the employer?
Corporate Wellness Programs can benefit employers by minimizing the health care costs, medical costs incurred in chronic disease management as a result of healthier living. It can also reduce the cost of employee insurance premiums and compensation claims that reflects on company finances.
It can result in productivity due to a reduction in absenteeism and reduce the indirect costs involved due to absenteeism.
Let's look into various adaptable approaches to create a healthy workplace culture –
Promoting Healthy Behavior
Promoting healthy behavior among the employees by conducting the medical camps, organizing seminars on the importance of health and fitness can help employees to overcome common possible health issues.
Work-space and Environmental Redesign
Simple modifications that enhance the overall health of the workers like an indoor plantation, well ventilated, using air purifiers, and ergonomic seating design, optimizing environmental conditions like thermal conditions, minimizing the utilization of noisy equipment and designing noise reduction industrial standards.
Promoting Physical Activity
The sedentary work environment can trigger chronic conditions. It is a good idea to promote physical activity among employees by providing gym membership at discounted rates, inducing work breaks to walk around, implementing onsite physical activity classes like yoga, aerobic activities, and zumba classes.
Initiatives to Restrain Tobacco Consumption
Tobacco consumption is one of the major causes of illness factors inthe workplace. Clear tobacco cessation policies can be implemented to restrain tobacco consumption inthe work environment. Several recommendations that should be implemented in workplace tobacco-cessation policies include –

Declare office space as a smoke-free zone and provide smoke zones for smokers.
Implement professional programs to help the employees to quit tobacco consumption.
Providing therapeutic treatments to handle possible complications of nicotine withdrawal in employees after they quit smoking.
Implementing Food Wellness
Implementing healthier food in the workplace also plays a major role in corporate wellness. It can be done by providing healthier food options at the office canteen, healthy snacks at conferences, planning healthier meals at meetings, replacing unhealthy beverages with healthy options like green tea, fresh juices, etc.
Conclusion
Implementing a Corporate Wellness Program can be a win-win situation for both employees and employers. It enhances the health and overall fitness of the employees which reflects in productivity and benefits the employer. A systematic and multidisciplinary approach and optimistic efforts both from management and the staff at all levels can result in a healthier work environment and healthier organizations. There is no fixed strategy that suits all, but can be tailored based on the organization type and size.