Employees with Chronic Conditions and the Role of Corporate Wellness
The workplace can be a toxic environment for employees with chronic conditions. Longer work hours, constant multitasking, and high-stress tasks can aggravate their condition, which prevents them from performing to their potential. If left unchecked, it can have detrimental effects not just on the well-being of the employees but also on the company's bottom line.
Prevalence of Chronic Conditions
Chronic conditions are physical or mental illnesses that last for a prolonged period of time and require ongoing treatment. It is estimated that over 157 million Americans would be affected by chronic diseases by the year 2020.
Diabetes, arthritis, high blood pressure, stroke, asthma, heart diseases, and cancer are the most common chronic diseases that can cause death and disability. These diseases may be genetically or environmentally acquired but could be aggravated by poor nutrition, unhealthy diet, lack of exercise, tobacco use, and excessive alcohol consumption. Unfortunately, not all people who suffer from chronic illnesses receive the recommended health care services.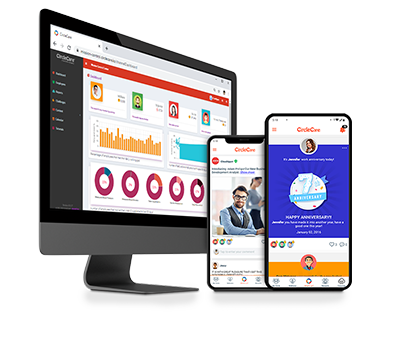 Corporate Wellness App
CircleCare
CircleCare employee engagement platform provides companies with a platform and tools to motivate their employees via positive reinforcements and rewards to establish and maintain healthy lifestyle choices.
Declining Productivity, Surging Healthcare Costs
Over time, employees with chronic conditions will experience a decline in their productivity because they have to be away from work to seek treatment. Even if they are healthy enough to go back to work, they could not function as well as they used to because their conditions are limiting some of their abilities.
The financial ramifications can be just as devastating for both employees and employers. About three-quarters of healthcare expenditures in the USA are spent on treating chronic diseases. Not only do people have to spend more on out-of-pocket medical expenses, but they also have to deal with higher insurance premiums.
Corporate Wellness to the Rescue
Corporate wellness is a workplace health program designed to combat health issues that are plaguing employees across industries. Companies are now taking employee wellness seriously and finding solutions to the problem. Apps like CircleCare help employees regain control of their health by modifying their behavior and engaging in activities to achieve their health goals.
A workplace wellness program is not an easy fix to a complex problem, but if it is planned well and is driven by a holistic strategy, it can be a long-term solution to help employees with chronic conditions improve their health.
For corporate wellness to be integrated into the company's culture, both the employers and the employees must align their health goals so that there's maximum engagement and involvement. For their part, employers must implement and reinforce the program with consistency. Employees, on the other hand, must participate and commit to the program to achieve the end goal.

A corporate wellness program must be fun, engaging, and rewarding. It must integrate elements of education, preventive care, physical activities, rewards, and measurable results. A well-thought-out corporate wellness program can achieve the following benefits:
Reduced absenteeism in employees with chronic conditions
Lower stress levels
Increased employee productivity
Lower healthcare costs
Increased morale and camaraderie
Corporate Wellness Platform
Corporate wellness apps like CircleCare provide a platform where companies can motivate and incentivize employees to modify their behavior and make smarter decisions when it comes to their health and lifestyle. Employees with chronic conditions can keep log of their vitals and get reminder for their medications. This platform can help transform a toxic workplace into a healthy working environment that can help sustain work-life balance, employee growth and development, and employee engagement.