Importance of Building a Healthy Work Atmosphere
Building an healthy work atmosphere that helps employees establish and maintain sound health is the key to a successful workplace health and wellness program. This article highlights evidence-based health promotion strategies companies can employ to create a culture of wellness. So, before making any decisions about your corporate wellness program, read this article.
Take a stand. 
There is increasing evidence that unless you are a wheelchair user, spending too much time sitting is bad for your health. Research suggests that sitting for long periods is linked with health problems, including obesity, slow metabolism, and high blood pressure.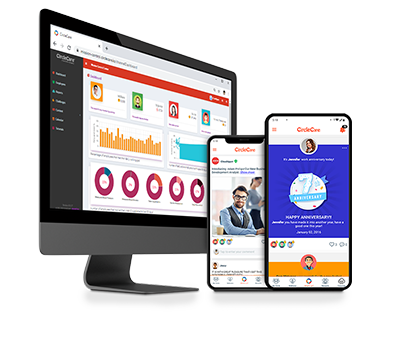 Corporate Wellness App
CircleCare
CircleCare employee engagement platform provides companies with a platform and tools to motivate their employees via positive reinforcements and rewards to establish and maintain healthy lifestyle choices.
Stay hydrated. 
Staying hydrated every day is important for your health. Water is best, but fruit or even meat can help hydrate you. It helps you maintain the proper function of every system in your body, including your heart, brain, and muscles.
Get active. 
Do you take the elevator or the stairs? Do you know that just two minutes of stair climbing a day can prevent the extra pound of weight that the average American adult gains each year? Biking to work, or during breaks, is also a healthy, environmentally friendly, and fun way of getting active. Finally, get some exercise before or after work, or during breaks. 
Eat healthily.
You are what you eat at work. Wondering how? You spend almost half of your day at work, which includes two or three servings of meals including brunch, lunch, and afternoon snacks. So, consider healthy food choices when hosting office meetings or occasional social events. Place signs or symbols that help employees identify healthier food and beverage choices in vending machines. 
Keep first aid tools.
First aid kits for offices need to be more comprehensive because a hospital, doctor, or a drug store may or may not be accessible all the time. Also, know where to find an Automated External Defibrillator. AEDs could save 50,000 lives each year. Other useful additions can be blood pressure and blood glucose measurement kits. 
Support breastfeeding.
Use lactation rooms and flexible scheduling to allow mothers to continue to pump when returning to work. Research shows that providing a lactation room is not only highly desired by breastfeeding employees who return to work after childbirth, it can also improve your company's ROI by saving money in health care and employee expenses.
Vaccination.
Get a yearly flu vaccine. It is the single best way to prevent seasonal flu. Workplace flu shots boost productivity and employee morale by having an employer who cares. This can also reduce the number of sick days and the number of doctor's visits. 

Maintain hygiene.
After the recent developments of COVID-19, maintaining hygiene is a must. Wash your hands regularly and always wear a mask to avoid getting sick and prevent the spread of germs. If an employee falls sick, allow them to take leave, so that others don't get infected.
Get a corporate wellness technology tool.
To get the best results out of your corporate wellness program, Get the perfect technology product to can help employees connect and self-manage their health & wellness goals—the CircleCare app. CircleCare is a smartphone app that can help employees keep their health in check and keep a log, track steps, and help take medication on time. CircleCare also connects employees to learn and share resources they need to make informed decisions.