COVID-19's Impact on Corporate Wellness
It is no secret that the COVID-19 pandemic has dramatically affected the lives of every individual in one way or another. The virus has resulted in millions of deaths around the globe, with millions more individuals being affected and thousands upon thousands of working individuals being retrenched and losing their jobs. Those who were fortunate enough to keep their jobs and remain employed have had to complete their work tasks and put their best foot forward in the corporate world under extremely difficult circumstances. Many organizations across the globe have had to react to the new normal that the coronavirus has created by adjusting their corporate culture and corporate wellness programs to fit the current situation.
Coronavirus's Impact on Corporate Wellness
The establishment and integration of corporate wellness programs in the workplace has become a greater need and priority due to the coronavirus pandemic. It is extremely important that during these uncertain times, corporations do the best they can to look after the health and wellbeing of their employees. The introduction of employee wellness programs creates a sense of togetherness and lets employees know that they are not alone during this time. This helps employees maintain a sense of connection towards their coworkers and employers while working remotely. A lot of these newly adjusted corporate strategies have included social events and group workouts/fitness challenges on Zoom or Microsoft Teams.
Virtual Workouts and Home Exercises
Because many people still fear exercising in public and going to gyms, virtual workout sessions with fellow team members and employees of an organization are an excellent alternative. Employer-provided access to online workouts is a simple yet effective substitute for gym memberships. The financial impact of this pandemic has affected the amount of money that individuals can spend on wellness. It is a good idea for corporations to offer their employees incentives and reimbursement in the form of workout equipment that can be used at home.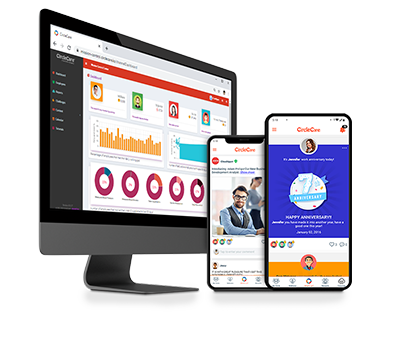 Corporate Wellness App
CircleCare
CircleCare employee engagement platform provides companies with a platform and tools to motivate their employees via positive reinforcements and rewards to establish and maintain healthy lifestyle choices.
Robust Programs to Help Cut Healthcare Cuts
Because hospitals have been flooded and have had to prioritize the care of COVID positive patients over most other cases, employees are not always able to check in on their physical health conditions such as diabetes, cholesterol, and high blood pressure. Not being able to efficiently monitor these conditions negatively affects employees' health and work ethic. When health and work ethic are compromised, the productivity levels within the corporate space decline. Wellness programs that involve high levels of remote employee participation are especially beneficial. This obviously includes the positive impact that these programs have on employee fitness. Programs that allow employees to clock their blood pressure, body mass index, and cholesterol levels enable organizations to better negotiate rates for health insurance and, ultimately, contribute positively to the overall wellness of their employees.
CircleCare Wellness App for Employee Engagement and Well-Being
CircleCare is a single, unified app that companies can use to foster a healthy corporate culture and lifestyle choices by engaging and motivating their employees. CircleCare is equipped with functionality to promote employee recognition, peer appreciation, birthday and work anniversary celebrations, and real-time acknowledgments to promote greater job satisfaction. This is an excellent way to ensure that employees stay engaged with one another and do not feel alone during the uncertain times that COVID-19 brings. The employee wellness application helps ensure employee wellness and job satisfaction, and enables employees to keep track of their health status pertaining to blood pressure, blood sugar, and medicine alerts, as well as the ability to track steps and sleeping patterns. If you wish to learn more about this employee wellness app, please contact CircleCare for more information.