Effective corporate wellness program to elevate the team spirit
What are corporate wellness programs?
Organizational activities which are designed for the long term purpose which promote the organizational practices and providing benefits and to the physiological, mental and social wellbeing of the employee are included in the corporate wellness programs.
Effective corporate wellness programs are sketched to support and encourage integral approach to employee wellbeing by creating an organizational culture of health.
Corporate wellness program optimizes human resource investments and boosting employee engagement.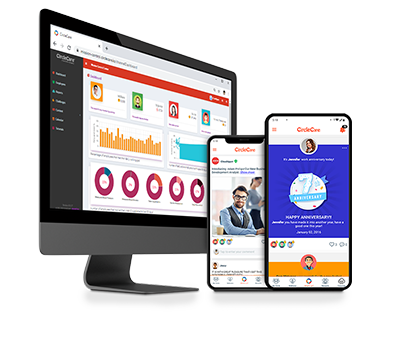 Corporate Wellness App
CircleCare
CircleCare employee engagement platform provides companies with a platform and tools to motivate their employees via positive reinforcements and rewards to establish and maintain healthy lifestyle choices.
A typical corporate wellness program may consist of a health or health-risk assessment planned by the employer, which usually consists of an annual, or semi-annual, medical exam that ascertains the employee's weight, height, blood pressure, and cholesterol and sugar levels.
Corporate wellness programs are prime focus interventions to protect, promote and manage employee health. They help reduce direct and indirect health care costs, absenteeism, and presenteeism; avoid illness or injury; and improve the quality of work life and morale.
Importance of corporate wellness programs:
An effective corporate wellness programs support employees in their wellbeing journey, employers are looking for products and services that operate from this shared orientation. A corporate wellness program is imperative to the foundation of the business.
It takes time to build a successful corporate wellness program and includes a wellness solution that is embedded in the culture of the organization.
Effective Corporate Wellness Programs for the Healthy life of employee:
The foundation of any effective corporate wellness program should be focused on helping employees adopt healthy behaviors and healthy lifestyle. The aim is should be to reduce the elevated blood glucose, high blood cholesterol, and high blood pressure which are mostly caused by unhealthy diets, unhealthy lifestyle and lack of physical activity.
The objective of every good corporate wellness program changes in behavior. With the right education, skills, motivation, skills/tools, and social support, people change behaviors. Corporate wellness programs are good at helping people adopt and maintain healthy behaviors. This is perhaps the biggest benefit of having a corporate wellness program. Healthy behaviors lead to lower health risks, and lower health risks lead to less chronic disease.
Corporate Wellness Program to Improve Productivity:
Poor employee productivity can be defined as physically being at work but not working. This type of poor productivity is called presenteeism. Corporate wellness programs that focus on helping employees have good health behaviors will eventually have an impact on productivity. It can increase operational productivity through socially responsible health policies that improve both workers' wellness and economic value.
Corporate wellness programs and Prizes:
It is the quality of the corporate wellness program which makes employee healthier and happy, but it is also important that no boundaries are crossed when it comes to their personal lives. Implement a corporate wellness program to create a win-win situation between employer and employees to track their own progress and also compete for prizes within the company.
A Review of the Company Health Plan:
When initiating an employee corporate wellness program, it's a professional way to start reviewing the limits and incentives of the company's existing health plan. Upgrading or changing terms may allow you to better cover preventative care or offer incentives for exercise.
CircleCare app is a new and modern way to increase employee engagement and wellbeing.
Effect of corporate wellness program on team spirits:
Team spirits and employee's confidence can be lifted when corporate wellness programs help to establish more positive social norms for physical activity, nutrition choices, and other healthy behaviors.
New and modern corporate wellness programs enlarge beyond the traditional 'occupational health' and 'healthcare and safety' also to tackle 'lifestyle' risks associated with modern work. The benefit of corporate wellness and fitness programs to the companies and employers are well-documented, and they include reduced healthcare costs and absenteeism, and also raises the team spirit, increased employee loyalty, and satisfaction.
Benefits of corporate wellness programs and impact on company's progress:
An effective corporate wellness program has the ability to understand and recognize the importance of the total employees and patience on the part of administration and participants will go a long way toward achieving a variety of goals for the company. The rise in health care costs can be slowed and possibly reduced. By planning an effective corporate wellness program employee morale can be improved much. Providing a friendly and comfortable environment where healthy change occurs is vital to the total success of the company of the future and can be achieved.
Effect of corporate wellness program on employees:
By implementing a corporate wellness program, it gives employees a feeling of satisfaction and is more than a usual resource of the organization. Corporate wellness program also reveals to the employees that the organization acknowledges that both employer and employee share some responsibility towards corporate wellness program reminds the employee that their health is the utmost importance to the development of the organization.

CircleCare App:
Corporate wellness app provides companies with a platform and tools to motivate their employees via positive reinforcements and rewards to establish and maintain a healthy lifestyle.
The aim is to Engaged Employees make customers happy and ultimately Improved Business Results.