The Quick And Easy Guide To A Healthy Office
The average person spends 8 hours per day inactive in an office chair, so it's really important that you have a healthy office. A healthy office can improve workers attitude, loyalty and productivity. Here are ways that you can improve your sedentary lifestyle and build a healthy office.
Correct Posture
OK, be honest, who just sat up straight? That's right; everyone knows what proper posture is but it is challenging to keep it up all day. Lucky for you there are apps for healthy posture that will keep reminding you.
Adjustable Height Desk
Sitting all day can be such a pain! Why not try a standing desk? There are many options in terms of size, functions, and price that there is one for everyone. Don't think this is only something for offices either, and these are great for the home as well.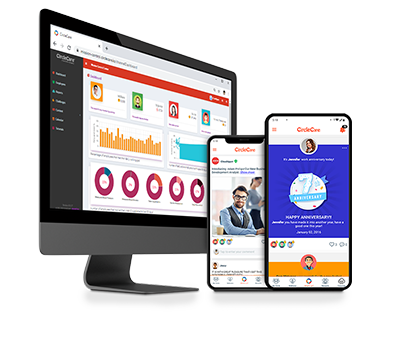 Corporate Wellness App
CircleCare
CircleCare employee engagement platform provides companies with a platform and tools to motivate their employees via positive reinforcements and rewards to establish and maintain healthy lifestyle choices.
Adjustable Monitor Arms
So you've tried to fix your posture, but you're still staring down at your computer screen. Say hello to neck pain! To get your screen up at eye level, use a mounted monitor arm that allows you to tilt, pan, and twist your way to better health.
Ergonomic Office Chair
Fixing your posture isn't easy if your chair is awful. Ergonomic office chair help keep the natural curve in your spine and remove pressure from your back muscles. Say goodbye to back pain and hello to better seated posture.
Exercise And Stretch
You don't have to buy a bunch of new office equipment and exercise gadgets to have a healthy office. Why not try spending 15 minutes of your lunch break doing a few simple stretches and strengthening exercises.
Take The Stairs
Don't have 15 minutes to exercise? That's no excuse! Try taking the stairs, walking to work, walking to and from your local lunch spot. Exercising doesn't have to be grueling, and just a few moments here and there will add up over time.
Under Desk Exercise Machines
Maybe you are a fitness fanatic and can't spend a minute sitting still. Well, lucky for you there are plenty of options out there. There are under desk treadmills, bikes, ellipticals, and more. They are completely unobtrusive and allow you to work while getting fit.
Mindfulness
Let's not forget the essential part of the body to look after – the brain! Take 5 minutes to relax and reset a few times a day. There are some great apps which can help you center your thoughts and clear your mind.

Use technology
Use of real-time analytics, the application of gamified systems and big data for will rise exponentially in the healthy office trends in the coming years. It might be a good idea to get a corporate wellness app like CircleCare to keep your workforce engaged and encourage them to live healthily.
CircleCare corporate wellness program provides companies with a platform and tools to engage their employees via positive reinforcements and rewards to establish and maintain healthy lifestyle choices.