What is employee engagement and why is it important?
Employee engagement is the extent to which an employee feels passionate about his work. It happens when companies win over the hearts (emotional connection) and minds of employees in ways that lead to extraordinary effort and possible financial results.
Why is employee engagement important?
The importance of employee engagement cannot be overstated because of the following reasons:
Profitability
Gallup finds that firms with high levels of employee engagement generate earnings per share (EPS) 342% higher than the industry median. Employee engagement indirectly impacts the bottom line through retention, customer loyalty, productivity, and safety.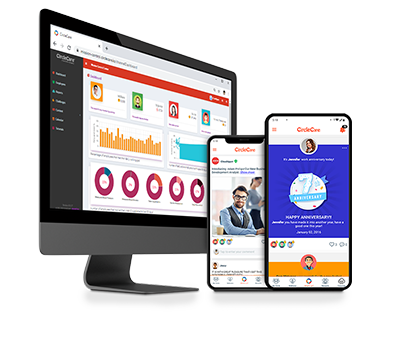 Corporate Wellness App
CircleCare
CircleCare employee engagement platform provides companies with a platform and tools to motivate their employees via positive reinforcements and rewards to establish and maintain healthy lifestyle choices.
Productivity
Employee engagement and productivity go hand in hand. An engaged employee thinks creatively and brings in fresh ideas to the table to get things done more efficiently, which leads to better productivity. In 2009, Harter et al. conducted a study where they found that engaged employees have 18% higher productivity and 60% higher quality than under-engaged employees.
Customer Satisfaction
Customer satisfaction and employee engagement are not separate issues. Companies with highly engaged employees score between 12% and 34% higher customer satisfaction. This is because when an employee is engaged, he is more likely to serve customers with much more warmly.
Quality
Employee engagement leads to better quality of service. Among fortune 100 companies, there was a 1000% decrease in errors among engaged versus disengaged employee populations. Not only does an engaged employee better understand his role – result in fewer issues, less wastage, and lower costs.
Safety
An engaged workforce is a safe workforce. According to the Gallup study, highly engaged hospital employees have 48% fewer patient safety incidents.
Retention
Engaged employees are 87% less likely to leave an organization. They are five times less likely to leave than employees who are not engaged.
Sales Growth
Higher employee engagement leads to higher customer satisfaction through better quality of product and service, which stimulates sales growth automatically. Each incremental percentage of employees who become engaged predicts an additional 0.6% growth in sales.

Wellness
The indirect cost of poor health among disengaged employees are almost 2-3 time the direct medical expenses of the total employee group. Engaged employees are 21% more likely to be involved in personal as well as corporate wellness efforts, which also reduces the chances of sick leaves.
CircleCare corporate wellness program provides companies with a platform and tools to engage their employees via positive reinforcements and rewards to establish and maintain healthy lifestyle choices.