Why should you invest in corporate wellness app?
Three out of five employers invest in corporate wellness program app. ever wondered why? Because when properly integrated, a corporate wellness app can improve employee health and productivity and lower health care costs. The CircleCare corporate wellness app is designed to offer a customized solution for your company to create a healthier work environment.
Some studies point to the potential benefits for those employers who choose to invest in corporate wellness app:
Better Performance
A corporate wellness app can play a vital role in improving customer experience. Organizations with a high level of employee wellbeing, have outperformed the stock market by around 2%-3% per year over 25 years as well as shown above-average shareholder return.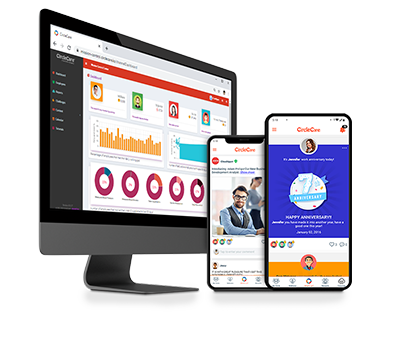 Corporate Wellness App
CircleCare
CircleCare employee engagement platform provides companies with a platform and tools to motivate their employees via positive reinforcements and rewards to establish and maintain healthy lifestyle choices.
The average cost of filling an employee vacancy (recruitment, selection, temporary cover, redundancy payments, training, and induction) is £6125. But when an organization adopts employee wellness program, their employee turnover rate goes down. 7 out of 10 employees say that they are likely to stay long-term with an employer interested in their wellbeing.
Reduced Costs
The average annual cost of absence and presenteeism due to ill health is around 8% of a company's wage bill in the UK, Which is almost £692 per year per employee. Sickness costs businesses £15bn per year. On the other hand presenteeism (where employees work but are underproductive due to poor emotional wellbeing) costs the UK economy £15bn annually. So, save your companies money by taking preventive measures on employees with high-risk habits before it creates any significant costs. If your employees are healthy, it is most likely to reduce your costs.
Higher Creativity
Organizations promoting health and well-being are seen as 3.5 times more likely to be creative and innovative. It is one of the essential skills in today's market. Happy and healthy employees are creative employees. So, spark the fire and reap the benefits.
Job Satisfaction
Employees at an organization where a wellness program is present have been shown to demonstrate increased levels of resilience and ability to cope with change. Workplace wellness App also leads to more effective teamwork and less conflict due to improved employee engagement.

Looking forward to adopting a corporate wellness app soon? Try CircleCare! It's a corporate wellness app that motivates employees to stay healthy by offering CarePoints, which can be redeemed for exciting rewards and perks.