Benefits of Corporate Wellness Apps
Three out of five employers nowadays offer a corporate wellness program. Why? Because when properly integrated, a corporate wellness program can improve employee health and productivity, and reduce health care costs. Plus, these benefits of corporate wellness apps are also proven to help retain top performers. Here are some more reasons for you to adopt a corporate wellness app for your company:
Benefit # 1: Corporate wellness apps are fun
When the workplace becomes boring and mundane, the employees too need some fun to beat the boredom. These corporate wellness apps could be a good addition as most employees these days have a smartphone that offers tons of feature that can provide fitness tracking, fun activities, and multimedia contents.
Benefit # 2: 
Engaged employees are happier
As per various reports, employees that are engaged with such corporate wellness apps are a lot happy and satisfied with their job, in comparison to those who prefer the other side. Healthy living is almost always synonymous to a carefree life.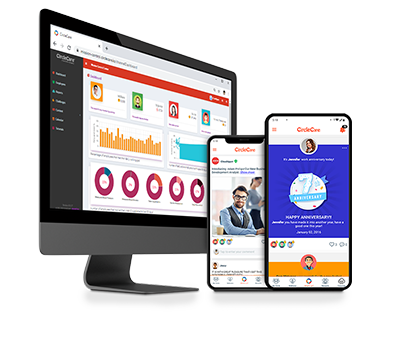 Corporate Wellness App
CircleCare
CircleCare employee engagement platform provides companies with a platform and tools to motivate their employees via positive reinforcements and rewards to establish and maintain healthy lifestyle choices.
Benefit # 3: 
Encourage team building attitude
Group fitness activities are highly useful to promote team spirit within the employees, which in turn enhances the productivity of the organization. Most corporate wellness apps offer group fitness activities like walking or hiking to encourage friendly competition among teams and allow each team members to contribute to the team's success.
Benefit # 4: 
It helps to manage weight
Corporate wellness apps offer healthy lifestyle tips and guidance which could be highly useful to help an employee manage his/her weight and prevent other chronic diseases that result due to it. Some corporate wellness app also lets peer groups encourage each other to stay active and burn daily calorie goal.
Benefit # 5: 
Corporate wellness apps reduce costs
The average annual cost of absence and presenteeism due to ill health can be quite substantial for any business. So, to save companies money, corporate wellness apps help by taking preventive measures on employees with high-risk habits before it creates any significant costs. If your employees are healthy, it is most likely to reduce your costs.

Do you want to try out a corporate wellness app? Mobile-based corporate wellness apps like CircleCare improved employee engagement, motivation and to make employee benefit more accessible.