Employee Engagement Best Practices
Employee engagement represents the level of enthusiasm and commitment an employee feels about his job, and put discretionary effort into their work. With an engaged workforce, companies enjoy a lower risk of turnover, boost customer satisfaction, and increase the overall chance of success. But, how do you build an engaged workforce? Here are 5 practices that will reinvigorate your employee engagement strategy.
Create a transparent workplace
A transparent work environment encourages employees to be more open, feel free from fear and create a safe and positive environment. Find ways to develop an employee window into what happens at all levels of the company.
Suggestions: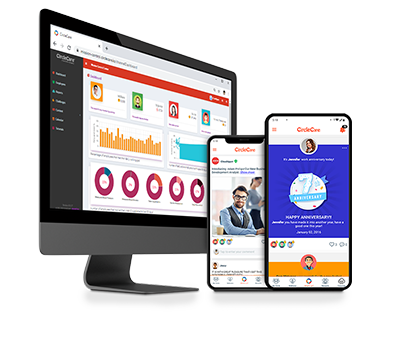 Corporate Wellness App
CircleCare
CircleCare employee engagement platform provides companies with a platform and tools to motivate their employees via positive reinforcements and rewards to establish and maintain healthy lifestyle choices.
Live streaming board meetings
Arrange Town halls with the C-Suite
Make transparency part of company policy
Trust employees to make decisions
Don't keep responsibilities and job functions a secret
Establish open communication channels
Encourage open communication
The bedrock of a transparent organization is open communication. Without open communication, it can be a terrible situation where no one shares their ideas and opinions. That's why managers should always try to encourage a free flow of information, openly discuss challenges, successes, and issues, so that everyone is aware and improve at the same time.
Suggestion:
Practice open door policies
Schedule Small group meetings
Criticize constructively, not destructively
Listen to your employees reflectively
Ask your employees for their input and acknowledge
Foster collaboration
Building a high performing team isn't always about getting the smartest people together, because if they don't work together and be collaborative, all that intelligence and skill could be squandered. So, make sure you introduce new technology to offer more engagement and cohesiveness.
Suggestion:
Use an online messenger tool for collaboration like – Google Hangout, Slack or Skype.
Reward collaborative performance to encourage team building
Leverage respective team members strengths to achieve a goal
Employee Investment
Employee turnover doesn't just eat your time, it also affects your bottom line. So, if you want to reduce turnover, and build an engaged workforce, invest in their personal and professional development. Undervalued or under-challenged employees will eventually seek out potential employers that provide what they are looking for.
Suggestion:
Provide new challenges and up-skill opportunities
Offer personal and professional development opportunities
Offer employee tuition assistance programs
The well-being of the employee
A 2017 survey says nearly half of the 1,000 employees surveyed would leave a job where an employer doesn't care about their welfare. Also, a healthy employee is a productive employee.

Suggestion:
Stock up healthy food in the break room
Offer various workplace wellness programs
Educate them on healthy living and encourage them to be physically active
Employee engagement at work is one of the ways to achieve organizational success and build an efficient and productive workforce. That's why with CircleCare we offer a corporate wellness platform that offers tools and resources to build a healthy and engaged workforce. Is your employee engagement strategy feeling a bit stale? Contact CircleCare team today.