Why emotional well-being matters in the workplace?
The emotional well-being of employees is the driving force behind every successful workforce. Happy employees are not only the most engaged and top performers in their workplace, but they are also the ones always ready to go the extra mile for the company.
Why should companies care?
Employees' emotional well-being can be impacted by factors such as financial stability, work-life balance, job security, family, health, and social interactions. If an employee's emotional well-being decreases, their performance and effectiveness at work will likely be affected as well. Let's take a look at some more reasons why employers should care about the emotional well-being of their employees: 
We work harder when we're happy
Research shows what you may have always suspected–happiness makes people more productive at work. When people are happy, they are also more engaged, more creative, and better problem solvers.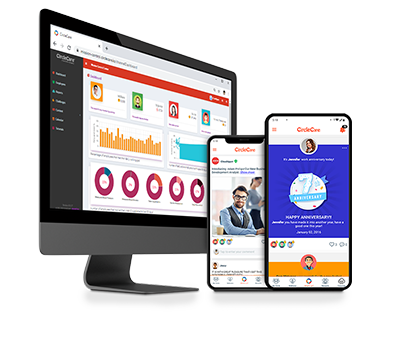 Corporate Wellness App
CircleCare
CircleCare employee engagement platform provides companies with a platform and tools to motivate their employees via positive reinforcements and rewards to establish and maintain healthy lifestyle choices.
Happy employees=Less turnover
When employees are happy at their job, they perform better and are less likely to leave the job, making employee happiness an important goal for organizations. 
The bottom-line benefits
Revenues across companies listed in Fortune's "100 Best Companies to Work For" increased an average of 22% in one year. 
Operations go smoothly
Companies with highly engaged employees have better results financially as well as operationally. Employers spend an estimated $80 billion to $100 billion each year on indirect costs due to employee mental health issues. 
What can companies do?
Let them design
Employees who control the layout and design of their workplace are happier and healthier, and also 32% more productive.
Welcome beliefs
Employees who can openly discuss their religious beliefs and practices are happier at work than those who can't. For this reason, employers may want to consider marking a wide range of religious celebrations.
Don't automatically cut hours
Creating shorter work hours may not make employees happier. It may simply force them to do 
more in less time. 
4 crucial ways to keep employees happy
       

Give them variety in their assigned tasks.

       

Allow employees to work independently from management.

       

Share work-related intelligence with them.

       

Have bosses and employees consult together on projects and strategy, where both can put forward opinions.
What can workers do?
Have meaningful work
People are happiest when they feel their work has meaning, and that they are contributing to the company effort, particularly if their goals are aligned with the company's goals. 
Helping others helps
Workers are happiest, research shows, when their work helps others. Not sure if yours does? Break down the individual tasks you do and think about who benefits. If you process tax forms for your company, for example, you're helping your coworkers get paid. 
Remember what you love
People who can call to mind what they love about their jobs are able to reduce their absenteeism by 60-75%.
Search Within
People who are unhappy in life are unlikely to find happiness at work. So before you blame your job, take a look inside. 
Don't eat in your cube
New research shows that eating in a social context with others reduces stress while eating alone increases it. 
Chat with happy colleagues at the water-cooler
A study shows that happiness is contagious, especially if the happy person is in close proximity to you. 
Learn something new
While mastering a skill at work may stress us out in the short term, it makes us happy in the long run. 
Plan a vacation
Looking forward to a vacation helps workers feel better than non-vacationers. 
Don't compare and despair
A key to happiness at work isn't simply earning lots of money; it is also based on not earning less than colleagues who do similar jobs to yours. 
Take breaks
Employees who took a break every 90 minutes had: 

       

30% higher levels of focus

       

50% greater capacity to think creatively

       

46% higher levels of health and well-being
When employees felt encouraged by their supervisors to take a break, their sense of health and well-being and the likelihood that they would stay with that company nearly doubled.
Increase Employee Engagement And Well-being
CircleCare corporate wellness app provides companies with a platform and tools to motivate their employees via positive reinforcements and rewards to establish and maintain healthy lifestyle choices.