7 Creative Ideas to Jump-start Employee Engagement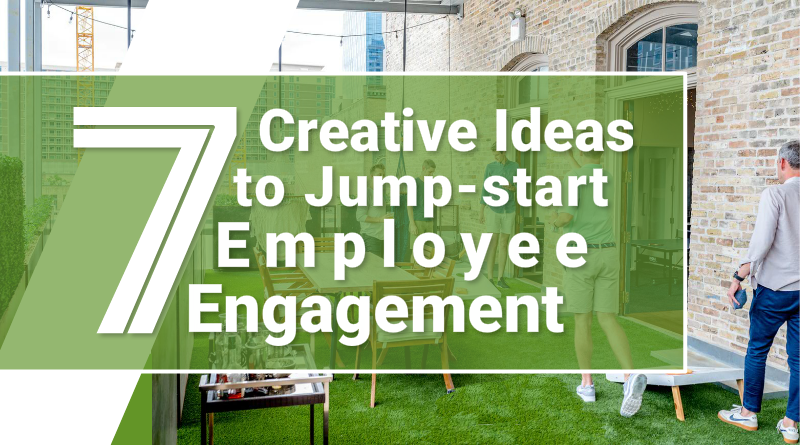 Find inspiration from each of these unconventional sources. Desperately seeking a fresh way of increasing employee engagement? Creative ideas can be found anywhere. So, the next time you're stuck, try one of the ideas below for engaging and inspiring your workforce to do great work!
Learn from children
Art comes naturally to for kids when they string colorful beads or try to draw with scented markers. You can practically see the light bulbs turning on as they internalize the day's topic. Isn't that exactly what you want your employees to do? So, go ahead and grab the scissors and glue to make your next meeting an employee engagement masterpiece. 
Go window shopping
Find your nearest Apple store and start browsing. It won't take long to understand that they've strategically designed their stores to encourage engagement and participation. Imagine designing a town hall or conference room like an Apple store!
Browse through a Cookbook 
What does a cookbook have to do with employee engagement strategy? A creative one  has all the ingredients of effective engagement; Strong organization of resources, compelling visuals, and, most of all, clear recipes with easy to follow instructions.
Recycle Old "Finds"
Garage sales are a good spot for a creative Pick-me-up. With a little elbow grease and imagination, you can "upcycle" anything, even resources for employee engagement activities. No time for a garage sale? You can checkout Pinterest, the ultimate DIY crafter site.
Play Simple Games   
Games like "Angry Birds" and "Color Zen" are not complex in their design, and the rules are also very easy to remember. Find inspiration from their ability to get right to the point, allowing the employees to grasp the concept from the start.  
Visit Your Favorite Food Truck
Whenever a food truck goes to a new spot, it shares its location on Facebook and Twitter. This technique of quick access to get important information, so people can find what they need – can be inspirational to employee engagement; it's all about making it easy. 
Volunteer for a Charity Event 
You can facilitate a team building event, like an initiative to create caregiver packages for AIDS patients in Africa. Organizing events like this fosters effective collaboration and engagement.
Adopt a Workplace Wellness Platform
When employees believe their employer cares about their health and well-being, they are more likely to be engaged in their job. Subscribe to one of the workplace wellness platforms like CircleCare for guidance, management  and tracking of each individual employee's health. CircleCare provides companies with a platform and tools to motivate their employees via positive reinforcements and rewards to establish and maintain healthy lifestyle choices.