How to Help an Employee With a Substance Use Disorder?
The question of how to help an employee or coworker who has problems with drugs or alcohol can be a very thorny and complex issue. However, it is one that many American businesses will have to contend with. Even with coronavirus having shut down many businesses, Boston rehab centers continue to admit individuals that encountered work problems due to their substance use issues.
In the 2015 National Survey on Drug Use and Health, about 8.7 percent of full-time workers ages 18 to 64 reported using alcohol heavily in the past month. A further 8.6 percent reported the use of illicit drugs in the same period. All in all, about 9.5 percent heavily misused substances or likely had a substance use disorder in the past year. Due to the collective effects of the 2020 pandemic, these numbers may even be higher today.
The effects of having almost 1 in 10 working Americans having substance use issues has had a massive collective effect on the economy. According to retired U.S. Army Gen. Barry R. McCaffrey, former director of the White House Office of National Drug Control Policy, drug misuse issues result in about $200 billion in lost productivity every year.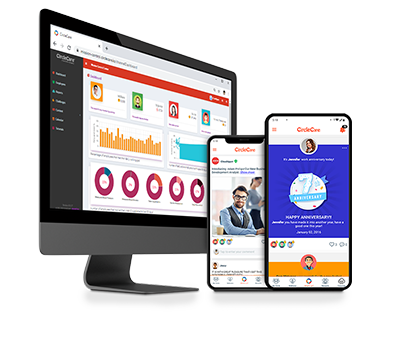 Corporate Wellness App
CircleCare
CircleCare employee engagement platform provides companies with a platform and tools to motivate their employees via positive reinforcements and rewards to establish and maintain healthy lifestyle choices.
While those figures may seem abstract, the stories they represent can be personal. Most working Americans know at least one coworker with a substance use disorder and many have seen firsthand the destructive effects they can have on relationships, productivity, and careers.
Regardless of the specific approach you choose to take in handling drugs and alcohol in the workplace, here are six ways you can help employees with substance use disorders: 
1.) Have a clear-cut policy on drug use
It's crucial for employers to provide expectations for employee behavior. Every workplace should have a formalized policy on drug use that should serve as a guide for what employees can expect if they are confirmed to be misusing substances.
The United States Department of Labor recommends that all workplaces should have written policies that outline expectations for employees regarding drug and alcohol use. You may consult with a legal expert to find out which federal and state guidelines your business will need to follow.
2.) Know how to spot the warning signs
While the patterns below are not necessarily proof that an employee is taking drugs or abusing alcohol, multiple instances of different items may be a cause for concern. If your employee regularly shows more than a few of the behaviors below, you may want to consult with an HR expert for your next step:
Excessive absenteeism, particularly without notice.

Inability to keep professional appointments.

Lapses in following safety procedures.

Spotty work performance, especially periods of extremely high and low productivity.

A deterioration in hygiene or appearance.

Difficulty with coworker relationships.

Difficulty doing tasks that were once straightforward.

A sharp increase in workplace errors.

Difficulty communicating with others; especially with understanding or remembering instructions.

Unusual lethargy or hyperactivity.
3.) Take things on a case-by-case basis
Not every substance use disorder case is the same. It's difficult to help an employee if you paint all kinds of substance misuse with a wide brush. An employee on a desk job who becomes dependent on illicit pain medication because of a workplace accident should not be evaluated in the same way as someone who drinks while operating heavy machinery. Always look into mitigating circumstances before taking any specific action on someone proven to be misusing substances.
4.) Learn about federal and state laws relevant to employee drug use
Federal and state legislation can have an impact on the kind of help you can offer an employee. And while you can choose to overlook certain behaviors, doing so may open you up to litigation. 
To add to this, employers have to be cognizant of the rights employees have when it comes to these matters. For instance, the Americans with Disabilities Act of 1990 (ADA) protects medically-prescribed opioids, amphetamines, and benzodiazepines. This type of use has become more prominent in recent years as these drugs have become more prescribed, even though they present a safety risk in many circumstances.
By taking the time to understand the relevant legal issues, you can better protect the rest of your team and choose more appropriate ways to help your employee as well.
5.) Give employees the resources they need to recover
Regardless of your views on drug use, everyone deserves a chance to recover from addiction. One way to help is to make rehab and treatment resources readily available to employees who ask for them — with the assurance that they won't get punished. Another would be to provide local resources for counseling, withdrawal management, and psychiatric services on a bulletin board or through internal memos so that confrontations could be avoided.
6.) Consider giving employees time off
Most clinicians would agree that three months of rehab is about the bare minimum amount of time needed to help a person with a drug or alcohol problem be well enough to get back on their feet. This does not include the additional months or years of therapy or maintenance medication that is sometimes required to help someone fully heal.
If a productive employee shows commitment to recovery, consider allowing them to take a leave of absence if they need to enter an inpatient program. When possible, you may also consider helping them find outpatient programs that will allow them to work as they recover. Fortunately, there are encouraging studies that show that outpatient drug rehab programs can just as effective as inpatient equivalents, under the right circumstances.

Conclusion
Finding out an employee has an addiction to drugs or alcohol is never easy, especially if they've previously shown loyalty, talent, and commitment to the job. Thankfully, employers do not have to lose valuable team members to the disease.