Why Does Your Company Need Corporate Wellness Partners?
Companies that wish to enhance their wellness programs beyond just health benefits, partnering with Corporate Wellness Partners has the potential to bring added value into their company for both employees and for the organization as a whole. Partnership with different organizations has the ability to enhance and improve your corporate wellness programs in a way that will take the health and productivity levels within your company to new heights.
Types of Corporate Wellness Partners and Their Benefits
Partnering with government agencies as Corporate Wellness Partners comes with many different benefits for corporate wellness. Government agencies have the ability to provide employers access to existing equipment, templates, and resources as well as training. Some government agencies include state and local health departments that can provide on-site or online training, offer staff health screenings, and provide technical assistance to employers. State and local health departments can also potentially conduct on-site educational sessions for employees. Another example of a government agency would be transportation departments that can help employers work within their communities to establish safer routes for employees to walk or ride a bicycle safely to work.
Work Site Wellness Councils
Whether at the state or local level, work site wellness councils are very often an independent resource that employers can leverage to build the capacity of staff, point out low or no cost tools, and receive training and technical assistance, as well as create an opportunity for employees to network with other employers/employees. This type of corporate wellness partners helps organizations to cultivate and sustain a culture of health for employees and for their families.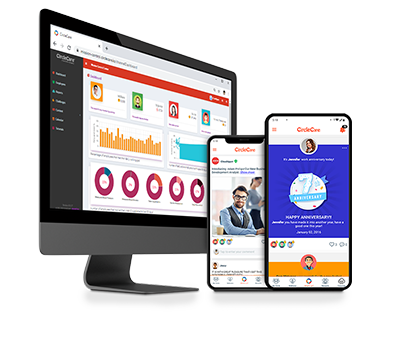 Corporate Wellness App
CircleCare
CircleCare employee engagement platform provides companies with a platform and tools to motivate their employees via positive reinforcements and rewards to establish and maintain healthy lifestyle choices.
Regional Health Systems can be an extremely strategic and beneficial partner for your workplace health program. Regional health systems are able to work with organizations to prevent and manage any chronic disease and/or injury. Regional health systems also play a key role in the promotion of overall health and well-being within the community. These regional health systems are able to motivate and encourage your employees to engage in their health by getting annual check-ups and regular screenings. Health systems can also establish and conduct flu vaccine clinics, health screenings, and educational health events.
Colleges and Universities
Partnering with colleges and universities allows work sites to identify evidence-based programs as well as valid and reliable assessments. Organizations within various different industries or lines of work are able to partner with colleges and universities to offer training and resources that supports their employees' professional development. Colleges and universities can also help companies evaluate their wellness programs.
Chambers of commerce can connect employers to other businesses, nonprofits, health care systems, and experts in the field. Partnering with chambers of commerce can also help companies meet other employers who are interested in employee and corporate health and wellness.
National Nonprofit Organizations
Certain nonprofit organizations offer and provide tools and resources, educational sessions, and opportunities to participate in and partner in events that promote and encourage physical activity and other wellness initiatives.

Other Organizations/Businesses
All organizations and employers have the ability and potential to offer something beneficial to the next organization and/or employer. These benefits can range from outdoor spaces and facilities to goods and services. This can benefit both organizations as well as have an overall positive impact on a comprehensive wellness program.
CircleCare Employee Wellness App
CircleCare is an extremely useful and beneficial, holistic employee wellness app that strives to increase employee engagement and employee well-being. CircleCare provides companies with a platform and tools to motivate their employees via positive reinforcements and rewards that help establish and maintain healthy lifestyle choices. With this employee wellness app, companies are able to create custom challenges for holistic activities like walking or tracking weight, sleep, and exercise, and also to help focus on the social wellness of an organization. This holistic employee wellness app puts the health and well-being of its users as top priority, and thus enables and encourages users to be active and burn calories, regularly log vitals, learn from and share different experiences with fellow CircleCare users, and helps users take any required medicine regularly. CircleCare also focuses on occupational wellness as the employee wellness app provides optimal functionality in order to improve job satisfaction and output. If you wish to learn more about this extremely beneficial employee wellness app, please contact  CircleCare for more information.