Are Corporate Wellness App At Workplace Becoming the New Normal?
Wellness has come to be associated with productivity and self-improvement. The covid-19 pandemic has made health and employee wellbeing the number one priority, which has resulted in a steady rise of wellness apps in the corporate world over the previous year.
Health-tracking programs aren't exactly new. Several companies have attempted to include wearable gadgets into employee health initiatives in the previous decade. However, since March 2020, the global pandemic has made physical and mental health a priority. Indeed, work and personal life have merged in the remote workplace, with estimates indicating that more than four out of ten employees are more burned out on the job than a year earlier.
People often become bored and lonely during face-to-face encounters, coffee discussions, team outings, and other activities that become increasingly rare. While advances in technology such as predictive analytics, artificial intelligence, and automation are helping to improve operational efficiencies, many people find the requirement to re-skill and work with new technologies unpleasant.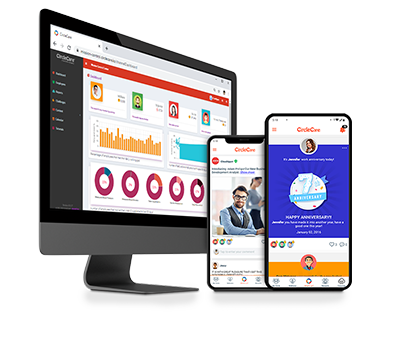 Corporate Wellness App
CircleCare
CircleCare employee engagement platform provides companies with a platform and tools to motivate their employees via positive reinforcements and rewards to establish and maintain healthy lifestyle choices.
All of this has pushed organizations to turn to wellness applications to improve staff fitness, sleep quality, and track weariness and other health-related issues.
The rise and rise of wellness apps 
According to Sensor Tower, by the end of 2021, mobile wellness apps will have surpassed one billion worldwide installs. As per the report, global installs of top mobile wellness apps are expected to rise by 42% this year, compared to roughly 730 million installs in 2019 before the time of the epidemic.
When it comes to workplace health and wellbeing, the main goal of a wellness app is to promote fitness, which leads to reduced absenteeism, increased productivity, and optimal operational efficiency.
Building health programs that really satisfy employee requirements is challenging even in the best of times, but after what has been dubbed "the most unpredictable year in recent history," the challenge has gotten considerably more difficult.
Employees can use the employee wellbeing app to learn about and monitor their company's wellness program, get points for health events, track daily progress, and take part in challenges. Organizations must reconsider their notion of wellness and how they might improve the lives of their employees.
There are wellness apps available to assist organizations in keeping track of their employees' health and well-being. Consider CircleCare, workplace health, and wellness platform that provides employees with easy access to health information, personalized suggestions, challenges, social networks,  and a corporate feed, as well as rewarding them for good health.
How does the future look?
At most, corporate wellness applications can be an essential part of an overall workplace wellness program, which organizations should follow from a more holistic standpoint, as an employee, physical, health mental and emotional will continue playing a critical role in determining the success of corporate sustainability and expansion plans.

Furthermore, according to many studies of employee benefits trends, improving employee wellness lowers employer healthcare costs and increases overall employee satisfaction, which improves the bottom line. Employees who are satisfied are nearly three times as likely to express a strong sense of loyalty to their employers, according to many studies of employee benefits trends.
Experts believe health and wellness applications will undoubtedly become more common in the corporate sector, with the launch of more sophisticated apps and wearable gadgets in the coming days, as Smartphones become everyone's lifeline.