Amazing health benefits of Green Tea that will blow your mind!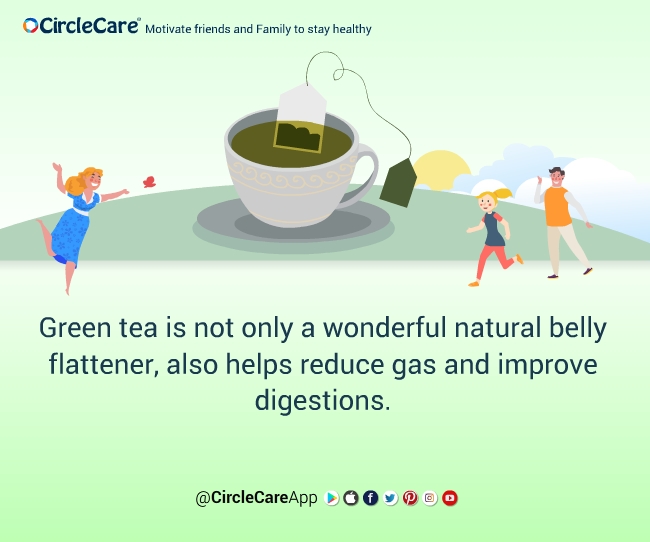 Green tea is a lightly oxidized tea that is focused on preserving its natural green color and sweet aromas. It also helps reduce gas and improve digestion track issues. Keep on reading to discover more amazing health benefits of green tea that will blow your mind:
You might also be interested in: Banana Is An Instant Energy Booster – Perfect Work Snack

Corporate Wellness App

CircleCare

CircleCare employee engagement platform provides companies with a platform and tools to motivate their employees via positive reinforcements and rewards to establish and maintain healthy lifestyle choices.
Improves Brain Function
Green tea contains less caffeine than coffee, but has just enough to produce a refreshing effect. L-Thiamine is a kind of amino acid found in Green tea, can work synergistically with caffeine to improve cognitive function.
Burn excess calories
Drinking 2 to 3 cups of green tea every day can help burn as much as 100 calories. There is a recent study suggests that green tea can boost weight loss, in addition to diet and exercise.
Lowers Risk of Cancer
Green tea contains predominant polyphenols, which has antioxidants activities. Antioxidants help lower the risk of Cancer. Men who drank 1.5 cups of green tea per day had a 70% lower risk of colon cancer.
Good for your teeth
Regular intake of green tea help promotes healthy teeth and gums. Green tea contains Catechin, which inhibits the spread of bacteria.  This can lower the risk of infections and improve overall dental health so that the Dentist  will not have to find any faults with your pearly whites.
Manage Diabetes
A study published in the "British Journal of Nutrition" found that an antioxidant found in green tea called Epigallocatechin Gallate, may help delay the onset of Type 1 diabetes. Green tea also is believed to be helpful in regulating blood sugar level. There are even studies that suggest drinking green tea may help lower the risk of Type 2 diabetes.
Manage Cholesterol
Green tea has been proven to reduce bad cholesterol (LDL) in the blood which significantly helps reduce the risk of stroke and heart attack.

Some other health benefits of Green Tea
A few lesser known health benefits of Green Tea includes:
Strengthen immune system
Lowers high blood pressure
Helps reduce inflammation
Aids proper digestion
Promotes respiratory health
Helps clear up acne