How to Sneakily Work Out At Your Desk
Eight hours per day, forty hours per week, and a whopping 1,900+ hours per year. That's the amount of time we spend seated at the office desk.
Modern technology has made our lives incredibly easy. Working in an office is infinitely more pleasurable than most occupations of the past. 
But, according to research, sitting for long periods can lead to weight gain, obesity, and a whole host of health problems down the road. Sitting is also linked to poor posture, high blood pressure, and an increased risk of early death.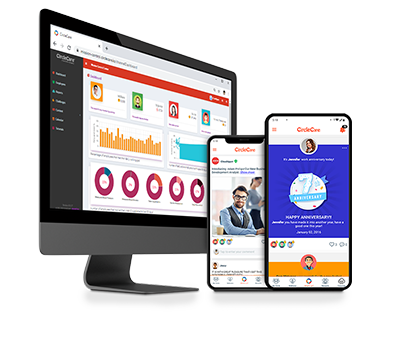 Corporate Wellness App
CircleCare
CircleCare employee engagement platform provides companies with a platform and tools to motivate their employees via positive reinforcements and rewards to establish and maintain healthy lifestyle choices.
So, while sitting tight and doing our job can make us successful employees, we also need to take good care of our health.
Below, we'll go over one fantastic tool you can use to exercise at your very desk – the mini elliptical. Let's see what it is and how it works…
What Is An Under-Desk Elliptical?
As its name suggests, the under-desk elliptical is a small and compact version of the full-sized elliptical trainer. As such, some functionality is lost, but it makes up for it in other ways, which we'll look at below.
Thanks to its reduced weight and dimensions, you can place the mini elliptical underneath a desk and use it throughout the day. It's also easier to transport from place to place, especially if you travel by car and you can even take it with you on the road.
The mini elliptical is designed with nothing but a pair of pedals and is intended to use while you're seated in a chair or standing. Some more expensive models also come with resistance settings and a display, but you can have wonderful workouts without these features.
Benefits Of Using An Under-Desk Elliptical
Using a mini elliptical offers many benefits, but perhaps the four biggest ones are convenience, efficiency, simplicity, and safety.
First, using an under-desk elliptical is incredibly convenient because you can do it almost anywhere – in the office, at home, or while traveling. The mini elliptical is relatively small and light, making it easy to carry around, so you can move it and take full advantage of it. In comparison, most cardio machines are stationary, and once you've positioned it somewhere, moving it becomes a huge hassle.
Second, an under-desk elliptical allows for efficiency because you can use it while doing many different things – watching videos or a movie, reading a book, listening to a podcast, and yes, even while working. This saves you time and allows you to do your exercise without having to dedicate time for a workout each day.
Third, the mini elliptical is among the simplest pieces of equipment you can use to exercise. Even if you've never been an active person, you can get used to working with it in a matter of minutes and start making great progress. This itself is a fantastic benefit for helping you remain consistent.
And finally, perhaps the most significant benefit of the mini elliptical is that it doesn't stress your ankles, hips, or knees and is an incredibly safe way to exercise. This makes it a fantastic option for beginners who are looking for a way to become more active.
Do Mini Ellipticals Work In An Office Environment?
The mini elliptical is compact, silent, and fits perfectly under most desks out there. Plus, the range of motion of your exercise isn't so large that it distracts coworkers.
So, yes. So long as your employer agrees, having a mini elliptical at work is a fantastic way to sneak activity into your days, invigorate yourself, and stay more productive.
Your colleagues might notice that you have a fitness device under your desk and may ask you some questions about it. The good news is, once they realize how beneficial it is, some of them might follow your lead and get one for themselves.
On the other hand, if you work in a cubicle, most people will probably never notice the mini elliptical underneath your desk.
How to Use An Under-Desk Elliptical At The Office
To use the mini elliptical at the office, all you need to do is set it up under your desk, sit comfortably on your chair, and position your feet on the pedals. Then, start pedaling slowly and get your blood moving.
One way to use the elliptical is to go by feel and use it as often as you think about it. This method can work, but you also risk doing too much or too little work.
An alternative to this is to set a reminder on your phone. For example, make it so that every half an hour, you receive a notification. Then, start using the elliptical for two to five minutes at a moderate speed. After that, get up, stretch a bit, drink some water, and sit back down. This is a great way to establish three positive habits through a single cue (phone buzzing).
The great thing about the mini elliptical is that you can use it as you work, which means that it doesn't interfere with your productivity or work output.
Suppose you're particularly eager to take full advantage of an under-desk elliptical. In that case, you can also add a resistance band to the equation and do some resistance exercises for your arms, shoulders, chest, and back.
For example, you can secure a resistance band underneath the elliptical as you've positioned yourself on it. Then, grab both handles, bring your elbows to your sides, and start curling up to work your biceps.
You can also use a resistance band for shoulder presses, lateral raises, and more.
Does This Work With Any Office Desk?
It's difficult to say for sure, but if your desk has some legroom, it should easily accommodate a mini elliptical. This is particularly true for most computer desks out there.
If you have a relatively small desk, you can check the dimensions (height, width, and length) of the model you want to buy and then take a tape measure to your desk and get a rough idea of how it would fit.

For example, if the height is what bothers you, there are shorter and broader models that can work well. Alternatively, if the height is okay, but you're worried about the width or length, you can look for a taller and more compact model.
So long as you have a rough idea of what space you're working with, you can find the right model for yourself.