Stress at work and how to manage them
Stress at work is the most significant cause of sickness throughout the world. In the UK it affects 1 in 5 of the working population and 105 million working days are lost per year through stress-related illness. This costs employers £1.24 billion per annum. A recent Everest College survey revealed that a whopping 83% of American professionals are also stressed out at their jobs that negatively impact on their productivity to the tune of $300 billion each year.
Most Stressful Jobs
If you hate feeling stressful situations, then maybe you want to reconsider building your career into one of the following professions:
Nurses
Teaching and Education Professionals
Welfare and Housing Associate Professionals
Taxi Driver
Senior Corporate Executive
Public Relations Executive
Broadcaster
Newspaper Reporter
Event Coordinator
Police Officer
Airline Pilot
Firefighter
Enlisted Military Personnel
Causes Of Stress
Nobody enjoys the feeling of stress at work, so try to avoid the following situations to minimize work-related stress: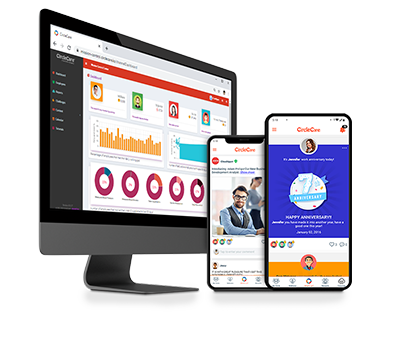 Corporate Wellness App
CircleCare
CircleCare employee engagement platform provides companies with a platform and tools to motivate their employees via positive reinforcements and rewards to establish and maintain healthy lifestyle choices.
Poor working conditions
Long working hours
Relationships with colleagues
Workload
Under pressure to meet deadlines
Impact of Stress At Work
Uncontrolled stress at the workplace may result in both physical & mental problems such as sleep disturbance, depression, headaches, stomach upset, high blood pressure, etc. Other impacts include:
High absenteeism levels
Poor morale among the workforce
An unhappy working environment
Low productivity
High staff turnover
Managing Stress
Here are four straightforward solutions to managing stress in the workplace:

Sleep is essential, though may be difficult if things are bothering you. Writing a list of problems can help to clear the head and allow for a good rest.
Exercise can use up some of the hormones that the body produces when stressed, and also helps to release endorphins that promote a sense of wellbeing.
Healthy eating is essential when feeling stressed. Regular meals and a balanced diet can help with reducing stress level.
Supplements such as B-vitamins can help to reduce stress and to aid the release of energy from the food we eat.
Support from friends, family, and coworkers can help improve stress management ability. Many companies offer stress management resources to help employees to stay motivated and live healthily. One such resource is CircleCare App – A complete corporate wellness app to keep your workforce healthy and motivated.