Private Social Networks for Companies to Enhance Employee Engagement
Social media has been known as a significant instrument for communicating with consumers, as it facilitates the previously inaccessible two-way communication between brands and customers. Social media channels are utilized to create buzz about new products/services, advertise promotions and competitions, and get immediate customer feedback.
Using social media platforms, companies may develop an online community of people who are truly interested in them and their products. If Social Media is so important for consumer marketing, why not use it internally?
It is now emphasized that employee participation in firms will be maximized and a more inclusive culture promoted, where employees are encouraged to share their insights. Private corporate social networks provide more organized communication for employees.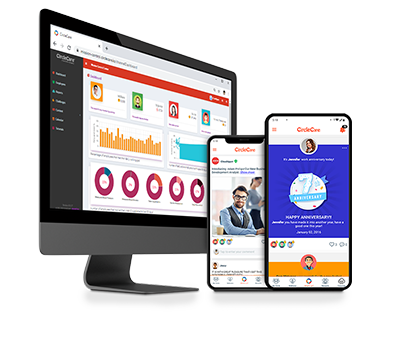 Corporate Wellness App
CircleCare
CircleCare employee engagement platform provides companies with a platform and tools to motivate their employees via positive reinforcements and rewards to establish and maintain healthy lifestyle choices.
Investment in a private social networking platform provides more privacy for companies. Companies may be guaranteed that their online interactions are secure since they can limit access to persons with security clearances. Seasoned app developers can construct a networking application that is tailor-made for your organization.
Private social networks are used to coordinate departments and divisions to achieve objectives. Multinational companies tend to launch products/strategies globally, however, it is necessary that your staff are acquainted with this before the products/strategies are made available to the public so they can be a suitable brand ambassador. Internal roll-outs enable employees to help manage external launch by share corporate news and talk on behalf of the brand.
If senior management is active on social media sites, other employees prefer to follow suit, thus it is crucial that significant information is given by the highest management. Social networking platforms informal style and allows bottom-up communication. For example, sales personnel can post on the network complaints about defective items and contact product development managers wherever they are.
On social media platforms of companies, groups, and discussion boards can simply be created to discuss information that is important to employees from certain departments and divisions. Sales representatives throughout countries can, for instance, disclose details on a large amount obtained by them, or marketing departments in a certain area might declare a product being introduced effectively.
The product launch can then be tracked by the sales team, which can directly tell group members about the performance of the new product. The transparency of corporate social networking platforms facilitates the management's processing of projects and efforts made by employees.
Competitions and rewards typically serve as incentives to encourage employees to fulfill objectives and activities; internal employee voting will be possible via private social networking platforms. Employees can encourage their colleagues by enhancing their morale and enhancing the workforce's performance.

Instantaneously, social networks provide live news. For example, employees at a corporate event can submit news on private corporate social networking sites, keeping everyone in a group up-to-date. It is considerably easier than posting on an intranet using a private social networking platform for corporate events as posts on the intranet need to be approved and are generally submitted by the allocated team. Social media sites also work better than e-mails in this scenario since employees are more likely to immediately see posts.
We have succeeded in integrating many social media networks. Social media have a unique potential to attract users and make them spread content. It is in the company's best interests to establish a private social corporate network that promotes creativity and employee collaboration. It is aimed at streamlining targets and encouraging employees to participate actively in the business of the organization.