What Is Enterprise Social Networking (ESN)?
An Enterprise Social Network (ESN) is simply an internal, private network that firms typically use to make communications and networking between their employees faster and more fluid. Based on the social networking revolution in the early 2000s, corporate social networks felt like Facebook and Twitter were in our personal life a must for easy access and communication. In the corporate world
ESN's increased popularity was part of the wider utilization of IT technologies, facilitating the usage of corporate software and making it more similar to the daily consumer applications. Social networking proponents aimed to disrupt silos and facilitate faster cooperation. However, the results were deceiving. The ESN use was plateaued after early enthusiasm and eventually dropped away. Some enterprises simply left their social networks for enterprise, while others left them to be non-essential, largely used for casual social connections, rather than business-critical activities.
Why is Enterprise Social Networking Important?
ESNs assist organizations to share information, work together and build the culture of companies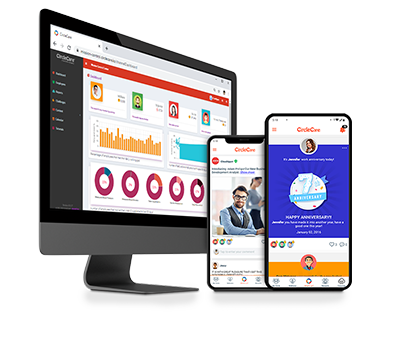 Corporate Wellness App
CircleCare
CircleCare employee engagement platform provides companies with a platform and tools to motivate their employees via positive reinforcements and rewards to establish and maintain healthy lifestyle choices.
Take these three significant advantages of adopting ESN:
1. Streamlined communications
ESNs lessen inbox embarrassment via the replacement of time-consuming email threads with public and/or private network talks.
2. A company knowledge archive
A consolidated information source that helps new employees to get acquainted with formal systems or even company culture.
3. Real-time crowdsourced opinion
Regardless of training level or experience, employees regularly come into new difficulties and may require rapid opinions from others.
The Problem With Regular Enterprise Social Networking
The usage of apps by enterprise social networking encourages spontaneous, unstructured dialogs that are excellent at moment-to-moment interaction but produce a lot of confusion and long-term disorder. ESNs are often deployed on top of existing apps as an overlay: they add a discussion layer independent from interactions, operations, and content in other systems.
Too often, the result is another canal to monitor and another silo to hide information. As streams of communication increase, they become more difficult to follow. People are spending more and more time trying to connect the dot between communications, papers, and colleagues to each other. Information becomes harder to find, and critical information is hidden and lost.
It's difficult to find out even where to start a discussion around a document with several overlapping Microsoft products such as Yammer, MS Teams, SharePoint, and OneDrive. Would you post it on Yammer, where you can share it easily, or could put it in SharePoint since you need improved release control? What if you work with MS Teams instead in one of the departments? Even Microsoft has a hard time selecting apps and making the most of the Office 365 suite.
At the end of the day, corporate social networks are fantastic for discussing work, but they typically fail to get the job done.
How CircleCare Outperform Other Enterprise Social Networks
CircleCare private social networking platform is no overlay, it is a mobile app, Android & iOS, which brings together discussion, content, employee health, wellness, and crucial context. CircleCare additionally gives a tailored experience that conveys relevant news connected to health and well-being, emphasizes mental and physical issues, and offers user-focused content.
CircleCare also contains the social aspects of a social network for corporations that assist to freely and swiftly connect and communicate. Unlike a social network for companies, however, corporate feed centralizes and puts everything into context, so it does not become an eternally growing series of separate discussions. External employees are excluded, which makes communication with internal personnel more private and secure than before.
In analytical skills, CircleCare offers great advantages too. It can build a 360-degree vision of employee health and company interactions and apply advanced analytical methods to help business leaders understand employee behavior, sentiments, work patterns, and the type of understanding needed to foster employee engagement, improve collaboration and increase company performance. In other words, CircleCare not only feeds a new production level but also provides a new degree of insight.

Would you like to know more about the CircleCare enterprise social networks? Try this 30-day free trial.