How Can Corporate Social Media Platforms In HR Improve Employee Engagement?
Companies can use corporate social media platforms as a tool to improve employee engagement, reinforce health and wellness culture, and effectively teach team members how to support each other, and guide them to improve business outcomes. CircleCare is one of the most popular corporate social media apps that HR departments are using to increase employee engagement, motivate their teams, and encourage healthy living.
Healthy work environment, company culture, and individual experiences are key contributors for long-term employee engagement. HR departments can use corporate social media to give employees a platform to share their feedback, concerns, and opinions of the organization and its functions. It also allows managers to stay connected to all employees, remote or not, and improves collaboration between teams and departments.
Importance Of Corporate Social Media Platforms Beyond Employee Engagement
The application of corporate social media platforms beyond just employee engagement, include talent retention, increasing reputation, and communicating culture. All organizations can use corporate social media platforms as a very affordable tool to improve their business and reach new heights.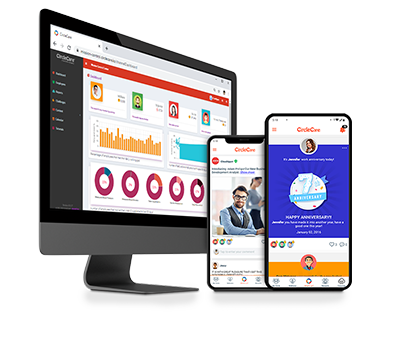 Corporate Wellness App
CircleCare
CircleCare employee engagement platform provides companies with a platform and tools to motivate their employees via positive reinforcements and rewards to establish and maintain healthy lifestyle choices.
Corporate social media platform CircleCare can provide HR professionals with all the tools to retain talented candidates with ease. It offers a comprehensive wellness platform and is a big differentiator for many organizations. As a corporate wellness platform provider, we know that when wellness is integrated with the foundation of an organization's culture, employees feel that their employer cares about their health and wellbeing, and they become more productive and engaged.

To retain top talents, companies can use corporate social media platforms to influence their corporate cultures, team-building activities, health and wellness initiatives, and build an appreciative work environment that can be used to make the employee feel proud to be a part of the organization. Sending badges to recognize employees' achievements, congratulating them on their work anniversaries, and wishing them a very happy birthday are just some of the examples of a positive use of corporate social media platforms. This can help grow a company's reputation, and give new employees a great onboarding experience.
If you are still reading this article and enjoy it so far, you can give CircleCare a try for your organization. We have a fully operational 30-day free trial option where no long-term contract or credit card information is required. Give it a try today or share it with your decision makers.