How Can You Improve Employee Health?
The COVID-19 pandemic has changed the way in which we go about our daily lives. It can be seen in every aspect of our lives: the way we interact with one another, where we choose to spend our time, and even the way employees complete work-related tasks. The corona virus pandemic has placed a great strain on employees as well as employers, and it's drastically changed office culture in many industries. Without a doubt, the pandemic has significantly decreased the levels of corporate employee health.
In many sectors, the standard of employee health has been greatly affected, with a decline in employee health and well-being seen in many industries. Maintaining good levels of employee health within any company has always been important, and now more than ever it is vital that the health and well-being of employees is carefully monitored and maintained. It is the duty of any employer to prioritize the well-being of their employees. They must put effective measures into place to improve employee health.
Ways to Improve Employee Health
Employers can take several actions to improve employee health. These range from providing health education, promoting health-related activities, and providing incentive programs to establishing employee support and engagement initiatives. Improving employee health can be as simple as providing healthy lunches, offering allocated times for meditation and/or prayer, as well as setting regular break times throughout the workday to enable employees to boost their energy levels and to maintain their morale.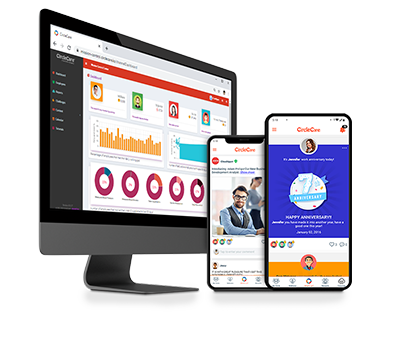 Corporate Wellness App
CircleCare
CircleCare employee engagement platform provides companies with a platform and tools to motivate their employees via positive reinforcements and rewards to establish and maintain healthy lifestyle choices.
Providing Free Health Education for Employees
Offering health education to employees is an excellent way of equipping employees with the knowledge they need to properly look after themselves. Initiatives such as monthly health education programs provide a means of checking in with employees about their physical and mental health. Providing employees with health-related brochures and tips is a simple yet effective way to raise awareness on health issues and to encourage employees to better look after their health.
Promoting Health-Related Activities/Challenges
Organizations can implement health-related activities and encourage employees to participate in health challenges to positively affect the well-being of their employees. Initiatives such as weekly walking goals, weekly fat burn challenges or monthly company sports tournaments are all fun ways to promote healthy lifestyles among employees. These initiatives also contribute a great deal to improving employee engagement levels within the office, which in itself contributes to a positive and conducive working environment.
Providing Employee Incentive Programs
Wellness programs that offer financial rewards, employee benefits or prizes to employees that manage to reach specific health related goals are some of the most effective ways to promote employee health and well-being.

It is helpful to customize these rewards in a way that is best suited to the specific needs of employees. For instance, health incentives can be created to benefit employees that suffer from chronic illnesses, pregnant employees or employees that have just returned to work after giving birth. These programs can even be designed for employees that face challenges with mental health issues. Customizing incentives to benefit specific groups of people will encourage employees to take part in these health-related programs and wellness activities.
Using an Employee Wellness App to Improve Employee Health
A well-designed employee wellness app that is accessible to all employees is a great way to improve overall employee wellness. These applications can encourage employees to feel connected to one another, and they can support each other in their efforts to engage in healthy lifestyles and health-related activities. The CircleCare Employee Wellness App is a holistic wellness app that provides organizations with an easily accessible platform and tools that can be used to motivate employees by offering positive reinforcement and rewards for maintaining healthy lifestyle choices. Because CircleCare is a holistic wellness app, it focuses on all aspects of well-being, from physical health to social and occupational wellness. The wellness app provides the ability to create custom physical challenges and has functions that are focused on the social wellness of a company. It also provides functionality to improve job satisfaction. Employees can effortlessly keep track of health issues through the regular logging of vitals, medicine intake, and sleep and exercise patterns. Employees are encouraged to share their health journeys and experiences with one another, with the aim of motivating each other to make healthier lifestyle choices while not feeling alone.