4 Advantages of Optimizing Your Employee Life Insurance System
One of the best motivations for an employee to stay at a job is the knowledge that their employer is investing in their wellbeing. Employers have chosen to become increasingly creative about the benefits that they offer to their hardworking, loyal, and promising employees. But one old-fashioned benefit that will remain popular is that of life insurance coverage, whether it's for worker's compensation, disability, unemployment, or employment practices liability. In these uncertain times, up-to-date and responsive insurance programs benefit employers and employees alike. They cultivate companies' most important human assets and guarantee working environments built on trust and goodwill. 
This kind of clamor for optimized group life insurance for employees is something that you can respond to as a provider. That being said, it may be the right time to invest in new life insurance software that will better serve your corporate clients' employees in this new digital age. Though an upgraded system will demand an upfront investment and take time for your insurance staff to acclimatize to, it may revitalize your group insurance delivery in significant ways. 
Indeed, you can increase your company's competitiveness by standing out as the group insurance provider of choice. Your clients will be grateful to be on the receiving end of an innovative and adaptable group insurance system. That, in turn, increases their chances of renewing with you for lucrative group insurance deals.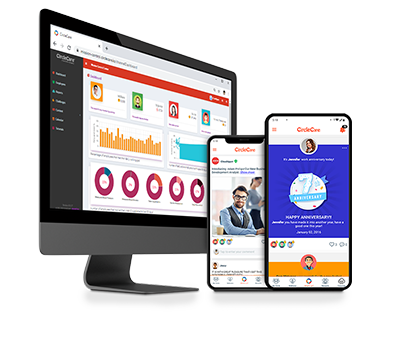 Corporate Wellness App
CircleCare
CircleCare employee engagement platform provides companies with a platform and tools to motivate their employees via positive reinforcements and rewards to establish and maintain healthy lifestyle choices.
Consider strengthening your current tech stack for employee life programs by modernizing it for the times. Here are the four most compelling reasons to do so:
It Will Drive Profitability Growth for Your Insurance Company
One common assumption that insurance carriers have about upgrading their group life insurance software is that doing so will be unjustifiably expensive. But in truth, beyond the initial expense, an optimized life insurance system may actually drive up your profitability growth for your employee insurance offerings. For one, onboarding this new system may allow you to save even more money on the administration and management of employee life insurance policies. The new software will heighten overall cost efficiency for processes like underwriting, policy changes, and claims management. It'll minimize a lot of the time-consuming manual work that typically goes into an insurance program and use automation to complete key employee insurance processes. 
In other words, you'll be spending less to administer an employee insurance program that your corporate clients will be happier with. The slash in expenses, plus the steady growth in enrollment due to client satisfaction, will ultimately grow your profit margins. That's definitely something that will make the upgrade worthwhile.
You'll Have Added Flexibility in Your Employee Insurance Programs
The trouble with most carriers' legacy plans for employee insurance is that they're bulky, outdated, generic, and inflexible. There's a chance that you're spending too much on traditional group insurance delivery for a client's employees. But at the same time, neither your client nor your employees may be getting the flexibility or the responsiveness that they need out of your program. 
Both your clients and their employees are more likely to be satisfied with their group insurance if policies can be easily adjusted and customized. There's more potential to craft insurance experiences that resonate with the corporation's goals and direction, as well as their employees' needs, lifestyles, and aspirations. It won't take you as long to release new group life insurance products—specifically tailored for employees—to the market. All of this is possible thanks to a streamlined, data-driven, and customizable employee life insurance platform.
It Will Make You More Responsive to Challenges in Managing Employees' Insurance Lifecycles
As a carrier for group insurance, one of your goals is to be consistent at managing employee insurance programs. But it will be increasingly challenging to do so, given how unpredictable the circumstances for insurance delivery currently are. For example, one of your client companies may be undergoing organizational changes that require adjustments to their employee life insurance policies. Or perhaps they want to shift quickly from automatic coverage or voluntary coverage, or vice versa. External circumstances—for example, the COVID-19 pandemic that's ravaged the labor force—may also affect the implementation of employee insurance from your partners in the provider network. And on top of all of that, you will still need to remain reputable in the eyes of insurance regulators and their own evolving standards for good performance. 
Whenever these big changes happen, you'll want to have enough business agility to still make good on your promises to your clients. One valuable reason to upgrade your group life insurance system for employees is the cushion it will give your company in trying times. With an optimized life insurance system, you'll be better equipped to adjust to these challenges without feeling as winded. The platform's enhanced capabilities for multi-format data intake, as well as its flexible rules architecture, will help you keep up with your corporate clients' demands. The investment is worth considering for the consistency, agility, and responsiveness it will afford you when managing group life insurance programs for employees at all stages.
It Will Boost Client and Employee Morale Amid Difficult Times
Last but not least, revamping your current life insurance system for better digital delivery is an important gesture of goodwill to your clients and their constituents. It's no secret that health and wellness are more at risk compared to before, even in work-from-home or hybrid environments. Your clients will appreciate group insurance delivery that makes it clear how much they value their employees. That's one of the simplest and most poignant reasons to pursue more modern, more streamlined, and more effective life insurance delivery for employees.  
Suffice to say, improving employee insurance experiences will keep morale high in your clients' headquarters even amidst tough times. This kind of result may seem intangible, but it will nonetheless be extremely important for you as a carrier. It will cultivate memorable insurance experiences that your clients may ask you to replicate, and it will help you form a company legacy that you can be proud of. 

Final Words
These benefits to your group life insurance program for employees are only possible with the right solution. When you've made the decision to invest, find a reputable life insurance software vendor to launch the system for you. Here's to wishing that they tailor the solution to your company's current ambitions in the life insurance industry!