How Can HR Improve Employee Engagement with Corporate Social Media Platforms?
Employee engagement in the workplace creates the right atmosphere for all members of an organization to give their best efforts each day, and to go the extra mile to meet the organization's goals and values. This helps motivate employees to contribute to organizational success with an enhanced sense of their own health and wellness. That's why every HR professional is asking the same question today – how to increase employee engagement? So in today's article, we will take a look at how corporate social media platforms like CircleCare can be used to develop employee engagement culture at the workplace.
Use Of Corporate Social Media Platforms At The Workplace
Organizations can have their HR departments use private social media platforms to observe and improve everyday activities in the workplace. With the right platforms, workers can stay on top of an organization's mission and recent project updates, and effectively communicate with each other to cut down the number of emails and instant messages sent. Research shows social media platforms could increase productivity by more than 20%, simply by encouraging social media communications and update sharing.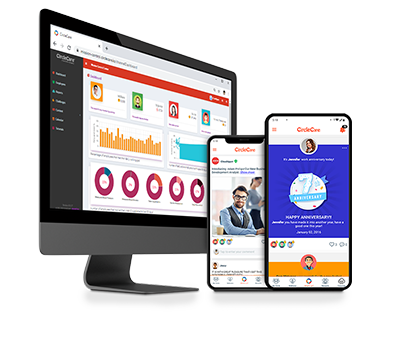 Corporate Wellness App
CircleCare
CircleCare employee engagement platform provides companies with a platform and tools to motivate their employees via positive reinforcements and rewards to establish and maintain healthy lifestyle choices.
In addition, corporate social media platforms can provide a platform for coworkers to support and encourage each other. When employees feel appreciated, retention, productivity, and job satisfaction increases. Encouraging high-performing employees to share their professional success stories, work experiences, and personal family moments is an important step for them to find meaning in their work and build bonds with each other. When your employees are engaged, they start to take ownership of their tasks, which plays a vital role in boosting the organization's brand. CircleCare Badges that highlight a worker's achievements can be shared on any social media and viewed by customers, potential job candidates, friends and families, and other important audiences.
How Can Organizations Integrate Corporate Social Media Platforms Into Their Workflows?
To get workers involved in your organization's corporate social media efforts, make sure all team members have access to the platform. Allowing and encouraging employees to use their smartphones at work to access corporate social media, instead of banning them as some companies do, will promote employee participation. Providing employees with health, wellness, and personal development related materials like articles, videos, or throwing friendly contests like steps, challenges, or photo contests within the platform will make them more willing to participate. This will open up their eyes to the opportunities and benefits of using social technologies.
Choosing a customizable and user friendly platform will promote engagement in any workplace initiative. You should be able to customize and control the platform to match your unique business requirements, which is important for getting employees involved. CircleCare is a good option for bridging the gap between colleagues, teams, and departments. The platform also has a useful mobile app for working across Android and iOS devices.
Finally, tracking and analyzing an organization's corporate social media activities is a great way to find the best possible way to create the best environment for fostering employee engagement. Checking engagement on CircleCare mission control center and going through your corporate feed can provide evidence of a successful campaign. For engagement management, the HR team can also ask for suggestions from everyone to uncover employee engagement issues and collect suggestions on how to make improvements.
How Can Corporate Social Media Platforms In HR Improve Employee Engagement?
Companies can use corporate social media platforms as a tool to improve employee engagement, reinforce health and wellness culture, and effectively teach team members how to support each other, and guide them to improve business outcomes. CircleCare is one of the most popular corporate social media apps that HR departments are using to increase employee engagement, motivate their teams, and encourage healthy living.

Healthy work environment, company culture, and individual experiences are key contributors for long-term employee engagement. HR departments can use corporate social media to give employees a platform to share their feedback, concerns, and opinions of the organization and its functions. It also allows managers to stay connected to all employees, remote or not, and improves collaboration between teams and departments.
If you are still reading this article and enjoy it so far, you can give CircleCare a try for your organization. We have a fully operational 30-day free trial option where no long-term contract or credit card information is required. Give it a try today or share it with your decision makers.