Ways to show care for your aging parents suffering with a chronic condition
Chronic disease has a profound impact at any stage of life. However, as we grow older, chances of developing chronic disease increases significantly. Think about our aging parents, almost in every family we have an aging parent with a chronic disease. They have to lead their life with the unbelievable burden of managing their chronic condition. Without family support, it can be really challenging, physically as well as psychologically for them to stay on track. That's why it's important to show care for your aging parents, to keep them motivated.
Show care for your aging parents
Family members can play a vital role in these situations to make their life a little comfortable and safe. Here are a few things that the family members can consider:
Keep the channel of communication open
In order for you to keep them happy and healthy, you need to establish open & honest communication environment. Share your feelings with them. They may not realize that you worry about them in their current stage of life. This will help them to open up and share their problems with you.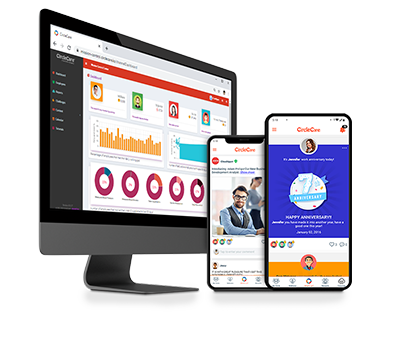 Corporate Wellness App
CircleCare
CircleCare employee engagement platform provides companies with a platform and tools to motivate their employees via positive reinforcements and rewards to establish and maintain healthy lifestyle choices.
Keep track of their medication and remind them if they miss one
If your parents have a chronic condition, it is only natural for them to not feel good about taking meds every day or they might even forget to take it. That's why family members should extend their support, keep an eye on their medical regiment and remind them if they forget to take them.    
Encourage them to be physically active
Parents are not going to do these activities by themselves, you need to remember that they do not have the motivation enough. You have to go walking with them, involving them in our daily activities to keep them physically active.
Help them control their diet by ensuring healthy foods for them
Our nutritional needs change and so do our appetites as we grow old. Older people may eat much, as they need fewer calories. But the other contents of diet, such as vitamins and mineral levels and foods need to be controlled. If they have a chronic disease, help them choose food items that do not conflict with that. The important thing is that they get proper nutritional guidance and a controlled diet.

Help them manage fatigue, pain, frustration, and isolation
Fighting with a chronic condition can be challenging and emotionally draining for elderly parents due to the uncertainty, the progression of the disease and the changes this may bring. You need to learn the skills required, to help manage the fatigue, pain, frustration, and isolation that people with chronic disease often experience.
Open communication, patience, and support from family members will help make the last stage of their life comfortable and safe. While doing so, don't forget to look after yourself too. It is very important to take time to look after yourself, to help you stay fit, healthy and relaxed.