The Secret to Engaging Your Team In An Era Of Social Distancing
"Your number one customers are your people. Look after employees first and then customers last." – Ian Hutchinson
It couldn't have been put forth better. Employees are the biggest assets of any organization and keep the wheels of the business up and running. Finding employees with the right talent fit is one of the most pivotal factors that define the success of any business. But that's not all. If you thought that hiring good employees is one of the toughest challenges, you'll be not so happy to know that according to a study, more than 60% of the companies who participated in the survey said that retaining employees was harder than hiring them. Replacing a lost employee puts a dent in the team's productivity as well as operational costs.
The modern employees of 2020 and beyond…
The stats aren't shocking really. Today's global workforce comprises millennial's and Gen Z. This diverse workforce is said to have very peculiar characteristics and walk in any job with pretty straight-forward expectations. Unlike the conventional workforce, money is not their only motivation- they look for businesses with social entrepreneurship, appreciation, flexibility, and a culture of inclusivity.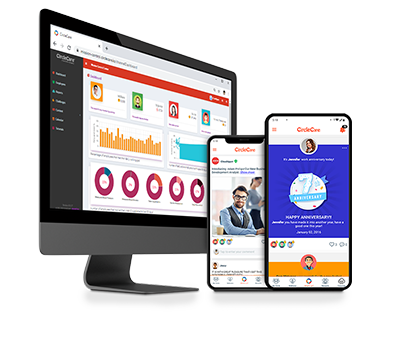 Corporate Wellness App
CircleCare
CircleCare employee engagement platform provides companies with a platform and tools to motivate their employees via positive reinforcements and rewards to establish and maintain healthy lifestyle choices.
Another important trait of these millennial and Gen Z workers is having shortened attention spans. Being a generation grown up on televisions, computers, and smartphones, engaging these employees in the age-old activities of team bonding and team outings is just not enough (and the same goes for team brunches).
The people management teams across organizations have been trying to introduce several ways to keep these employees happy, engaged, and well-connected to the organizational core, in an effort to not only retain them but also to elevate their productivity.
"Highly engaged employees make customer experience. Disengaged employees break it." – Timothy R. Clark
From regular recognition, corporate wellness to coaching paid sabbaticals to remote working, people management teams continuously evolve with newer ideas and strategies to engage the employees.
And while it isn't full-proof, it's working out well.
And then we find ourselves in the middle of a pandemic.
The world moves into a lockdown, in several ways. Some systematic, some chaotic. Remote working, remote learning, and social distancing become the new norm. Organizational processes are revamped to absorb new changes. Some companies start operating on shifts, while others go fully remote. Even the ones who have employees coming into the office premises, the 6-feet rule is toughened up.
And this state of operation looks like it will continue in the near future. And all this while when the organization's focus was to facilitate remote working, keeping the business smooth and operational, the engagement of the employees might have taken a backseat.
But it shouldn't. Because, "To win in the marketplace you must first win in the workplace" – Doug Conant.
Even if it is a remote workplace.
Promoting employee engagement in the era of social distancing
In the era of social distancing and remote working, conducting employee engagement activities is tough. And this is where CircleCare comes to the rescue. CircleCare is the ultimate corporate wellness app that serves as a private social networking app for your organization. CircleCare not only promotes employee engagement but also helps organizations strengthen their culture and operate with higher productivity.
Let's see how: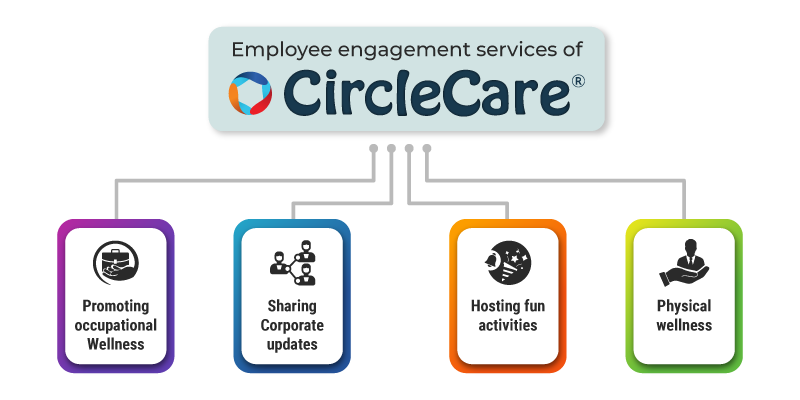 Promoting occupational Wellness
Employee productivity at work is crucial for business growth. According to a study, 79% of the employees who quit their jobs stated they did so due to the lack of appreciation at the workplace. Appreciated employees perform better and stick around longer.
With the CircleCare app, organizations can enable peer-to-peer recognition, celebrate work anniversaries, and provide badges for special achievements and contributions. These badges are visible on the employee profile and help the employees- both new and existing to understand the past achievements and skill-sets of their peers.
Sharing Corporate updates
One of the biggest disconnect employees might feel working remotely is the lack of visibility. Unlike a conventional workplace where employees could walk up to other teams, departments, and in some organizations even the C-suite executives, remote working results in employees feeling uninformed and out of the loop. The CircleCare app can be used to share new customer acquisitions, project completions, strategies, and business updates. The HR department can also introduce new employees, programs, and other operational updates with ease.
When employees are working remotely, this will help them to be on the same page as the rest of the organization and there will be no 'fear of missing out'.
Hosting fun activities
With the Circlecare App, the employee wellness experts can conduct fun challenges that employees can participate in remotely. Since the app is 100% within the secure corporate environment, employees can be involved, engaged, and have some break without having their private content going on social-media.
Physical wellness
Not enough can be stressed on how physical well-being can be monumental in employee productivity. A healthy employee can not only contribute more, but physical wellness helps in boosting employee morale and self-esteem. Using CircleCare, employees can be introduced to custom physical activity challenges like walking goals, exercises, and activities, sleep patterns, and exercises. The app also provisions for tracking vitals and automates nudges when employees fail to meet their challenges and provides medication reminder models.
There couldn't be a better time to promote employee health and immunity.
Facilitating Streamlined Communication with a Team Communication App
Connection and collaboration are integral to employee engagement. So, you have a social network to engage your employees. But if you are relying on commonly used public social messaging apps for team conversations and collaboration, you are losing out! Employees cannot be engaged using email-based conversations, especially for work.
With a team-wide corporate instant messaging app, employees can not only keep in touch with their teammates but also share documents and files within a secure framework. Employees can have quick access to business resources without jeopardizing the security and this can help them in being productive. Business contacts can be made available within these apps and communication over VoIP and voice calls can be established along with text messaging, file sharing, and conference calls.
Closing lines…
 "When people go to work, they shouldn't have to leave their hearts at home." – Betty Bender
Today, employees are practically not leaving their homes, and hence it is more important than ever to have their hearts at work. With a trusted app and a well-sought-after employee engagement strategy, your employees can help sail your business to safety in difficult times.
How Do I Start A Corporate Employee Engagement Program?
If you are in HR or you are a wellness champion at your workplace and you would like to find out how CircleCare Corporate Wellness and Engagement App can take your team's health to the next level, contact us now.