Infogrpahics: How do I start a wellness program at work?

What is wellness program at work?
A wellness program at work is a series of activities that promote health and well-being in the workplace. In order to establish a successful wellness program at work, everyone in the workplace needs to motivate each other to follow healthy workplace behavior.
Why start a workplace wellness program?'
Lack of workplace wellness program can lead to serious health issues like:
Physical Inactivity
High Cholesterol, Blood Pressure & blood sugar Level
Cardiovascular Disease
Overweight
Stress
Back Pain
Benefits of workplace wellness programs: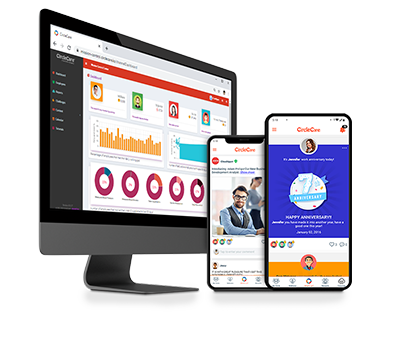 Corporate Wellness App
CircleCare
CircleCare employee engagement platform provides companies with a platform and tools to motivate their employees via positive reinforcements and rewards to establish and maintain healthy lifestyle choices.
Physical Activity
Tobacco Cessation
Stress Relief
Back Care
Increased Employee Retention
Reduced healthcare costs
A Few More Facts:

Workplaces with physical activity programs, employers have
Reduced healthcare costs by 20 to 55 percent
Reduced short-term sick leave by up to 32 percent
Increased productivity up to 52 percent
How to start Workplace Wellness program?
The easiest way to start a wellness program at work is with CircleCare App. You can easily create a private circle of your workplace coworkers and start motivating and inspiring each other through the App:
Support & inspire each other to get rid of The Bad Habits or to continue doing it by awarding badges to encourage good behaviour (Send Kudos)
Inspire to Eat Healthily (Learn & share experiences on healthy food options with your colleagues for lunch)
Motivate Each Other to Be More Active (Engage in a friendly walking contest with your colleagues with CircleCare App)
Appreciate & Encourage Healthy Lifestyle. (Appreciate and encourage healthy lifestyle choices like taking stairs instead of the elevator with positive reactions and comments)
Always Take Medicine on Time (Now with CircleCare, you get not only medication reminder to take your meds, but also motivation from colleagues to be regular about it.)
Communicate More Often to Relieve the Stress. (Share images, video and voice clips with your colleagues, even when you are not at the office.)
Appreciate and Encourage to Boost Mental Fitness.
Download CircleCare App Now and Connect with Your Colleagues!