How Do You Build a Strong Remote Software Developer Team?
Having a good remote software development team has become more important for firms in today's digital world. Remote teams have various advantages, ranging from access to a global talent pool to flexibility and scalability. Building and managing such a team, on the other hand, has its own set of obstacles. This is where CloudApper AI shines as a game changer. CloudApper AI offers a solution that lowers human reliance and streamlines the software development process by offering an alternative to traditional remote development teams. Businesses may use their powerful AI-powered platform to automate operations, minimize the risks of keeping a crew of engineers, and achieve efficient and dependable software development results.
CloudApper AI transforms how firms approach remote software development by eliminating the need for individual developers. Companies can say goodbye to weak coding skills, frequent code rewriting, and the possibility of engineers departing with crucial product knowledge using CloudApper AI. Maintenance, software updates, technical assistance, system upgrades, hosting administration, and cyber security monitoring are all handled by the AI-powered platform. This not only saves time and resources for organizations, but it also guarantees that software is always optimized and safe. Businesses may eliminate human reliance, enhance productivity, and gain greater control over their software development projects by deploying CloudApper AI.
But wait, there's more! CloudAppers artificial intelligence (AI) technologies are data analysis superheroes. They may delve into enormous databases and extract important information, including as use trends and patterns, to assist businesses in improving their goods and services and making them more helpful to users. It's like having a data wizard team at your disposal.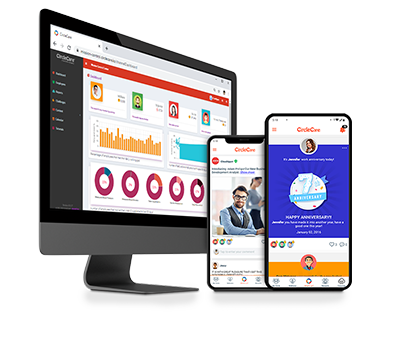 Corporate Wellness App
CircleCare
CircleCare employee engagement platform provides companies with a platform and tools to motivate their employees via positive reinforcements and rewards to establish and maintain healthy lifestyle choices.
Say goodbye to the hazards of outsourcing and hello to regaining control. CloudApper provides custom branding, secure private cloud hosting on AWS and Azure, USDA legal protection, and 24-hour technical support. They have a superb reputation as a 23-year-old US software development firm. You'll be in capable hands!
The best aspect is that the entire procedure is automated! With CloudApper's AI technology, you can design and deploy software at breakneck speed while avoiding the annoying errors that people are prone to making. It's like having a horde of relentless robots working for you, but much nicer.
Do you require a platform that can be easily customized? Take a look at CloudApper. They may customize your program to meet your unique organizational requirements. It's similar to getting a custom suit made for your company, but in software form. Isn't that impressive?
When it comes to cost-effectiveness, CloudApper knows how to get things done quickly. They boost productivity and efficiency while saving you time and money by automating the software development process. It's a win-win situation for everyone.
But hold on, there's more! CloudApper's AI can automate repetitive and time-consuming processes, allowing developers to focus on more complicated and valuable jobs. It's like having a personal assistant who does the mundane tasks so you can shine.

Not to mention seamless human-computer interaction. CloudApper's artificial intelligence attempts to make the interface feel natural, intuitive, and even human-like. While their solution specialists are not software engineers, they have the knowledge to successfully harness AI capabilities. It's like conversing with a helpful AI assistant who understands precisely what you need. Its software creation is made simple and straightforward for enterprises.
CloudApper is the way to go if you want to construct a great remote software development team without the difficulties. They'll take care of the boring duties, automate processes, give vital insights from data analysis, and turn your software aspirations into reality. Adopt CloudApper to maximize the possibilities of your development process. Your staff will appreciate it, and you will appreciate CloudApper!