How to enhance the well-being of nurses in healthcare facilities
Nursing is a demanding job that involves not just medical expertise but also intensely emotional and physical demands. Nurses are often required to work long hours in high-pressure environments, which can take a toll on their mental and physical well-being. 
To ensure the best care possible for patients, healthcare facilities should do all they can to support nurses' health and well-being. In this blog post, we will look at ways to enhance the well-being of nurses in healthcare facilities.
Prioritizing Mental Health
In a survey by Stat, most nurses have voiced their dissatisfaction with the level of support provided for their mental health in the workplace. Of grave concern is that 1 in 10 nurses have reported experiencing suicidal thoughts since the start of the pandemic, which is more than twice the rate seen in the wider U.S. adult population.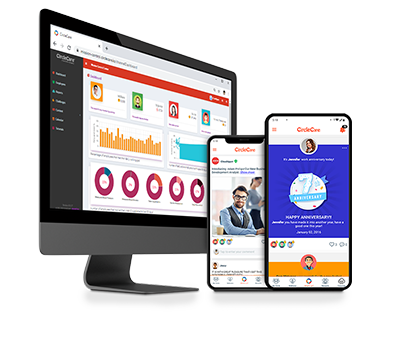 Corporate Wellness App
CircleCare
CircleCare employee engagement platform provides companies with a platform and tools to motivate their employees via positive reinforcements and rewards to establish and maintain healthy lifestyle choices.
Despite numerous discussions on this topic, two-thirds of nurses feel that the healthcare industry's stance on addressing nurse mental health has not changed during the pandemic. Moreover, a staggering 95% of nurses feel that their mental health is either not a priority or that there are insufficient measures in place to support it.
Nurses are often pushed to their limits in trying circumstances, so making sure they have access to resources like counseling services or other forms of support can help them maintain their health while caring for others' health needs.
Offering Flexible Work Arrangements
Flexible work arrangements can help employees maintain a healthy work-life balance. Flexibility is one of the best ways to improve employee well-being and productivity since it allows workers to meet their obligations without compromising their job performance or causing stress in the workplace.
In addition to offering flexible scheduling options such as telecommuting or flex time, employers need to be open-minded about other types of flexibility as well. For example, allowing employees who need additional time off during specific months due to family obligations.
Providing Professional Development Opportunities
Providing opportunities for professional development is a great way to enhance the well-being of nurses in healthcare facilities. Some hospitals offer training programs that help nurses improve their skills and provide them with new knowledge, while others allow their employees to pursue advanced degrees through online courses such as an online DNP FNP program.
An online Doctor of Nursing Practice (DNP) Family Nurse Practitioner (FNP) program allows registered nurses to advance their education and career without sacrificing their current work schedule. 
This program typically includes online coursework and clinical experience, allowing students to gain the knowledge and skills necessary to provide primary care to patients of all ages. 
Online programs like these may offer flexibility in scheduling and location, allowing students to complete their degree at their own pace and from any location with an internet connection.
Supporting Physical Health
According to Best Practice Nursing, Nurses exhibit various risk factors that increase their likelihood of developing cardiovascular diseases, such as physical inactivity, sedentary behavior, overweight/obesity, hypertension, dyslipidemia, diabetes, smoking, depression, and anxiety.
Multiple studies have revealed that nurses have low levels of physical activity, with many not meeting recommended physical activity guidelines and exhibiting high levels of sedentary behavior. Nurses who work rotating shifts, 12-hour shifts, or work full-time or part-time (rather than casually) may be at a higher risk of physical inactivity. 
The following are some ways you can support nurses' physical health:
Encourage them to exercise regularly. Nurses may not have time for regular exercise due to their busy schedules or because they feel guilty about taking time away from patients' needs or duties. You could encourage them by suggesting an activity such as walking together at lunchtime,  buying healthy snacks (such as nuts) instead of junk food,  or organizing an occasional group workout at the facility gym (if one exists).

Help them eat well by providing healthy snacks that are readily available in break rooms or vending machines so that nurses don't have an excuse not to eat them, or worse yet, eat junk food because it's convenient. 
Fostering a Positive Workplace Culture
The workplace culture of your facility can have a major impact on the well-being of nurses. A positive workplace culture can improve employee engagement, morale, and productivity. It also helps to retain employees who are more likely to stay if they feel supported by their managers and colleagues. The following are some suggestions for fostering a positive work environment:
Provide opportunities for team-building activities so that staff members get to know each other better.

Encourage collaboration between departments so that everyone works together toward common goals.

Ensure adequate staffing levels so that there are enough people available at all times.
Providing Adequate Resources
When nurses have the right equipment and supplies, it's easier for them to do their job. This includes everything from medical supplies, such as surgical tools and bandages, all the way down to pens and paper clips.
The nursing shortage is an example of why it's essential to have adequate resources for both patients and nurses. If there aren't enough nurses available in your area, you may find yourself waiting longer than usual before you can be seen by one,  which isn't good if someone needs urgent care.
Offering Competitive Compensation and Benefits
Compensation and benefits are an important part of your employee's well-being. To attract top talent, you need to offer competitive compensation and benefits packages. 
This includes health care insurance (health, dental, and vision), retirement plans, paid time off, and tuition reimbursement.

Conclusion
Nurses form an essential component of the healthcare system and comprise the most significant segment of the health profession. The World Health Statistics Report indicates that there are 29 million nurses and midwives, with the United States accounting for 3.9 million of these professionals. Projections indicate that employment prospects for nurses will increase at a faster rate (9%) than all other occupations.
We hope that you've found this guide to be helpful in your efforts to support nurses in the workplace. We know that it can be challenging to find the right balance between work and life, but we also believe that by making some small changes here and there, you can make a big difference in the well-being of your staff members.