How to control high blood cholesterol?
Changes in lifestyle can lower the risk and help prevent you from having high cholesterol. To help control high blood cholesterol we should eat a healthy and balanced diet, exercise regularly, stop smoking and cut down alcohol.
Eat Healthily
Our food habit has a direct connection with our cholesterol level. Foods that make up a low cholesterol diet can help reduce high levels:
Foods with high fiber
Foods which are rich with fiber can lower cholesterol. Vegetables and some fruits like beans, apple, carrots, oat bran, and even brown rice enriched with fiber.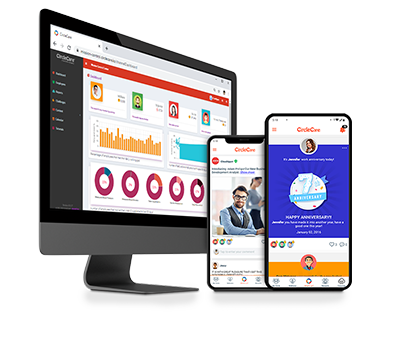 Corporate Wellness App
CircleCare
CircleCare employee engagement platform provides companies with a platform and tools to motivate their employees via positive reinforcements and rewards to establish and maintain healthy lifestyle choices.
Omega-3 fatty acid
Cold-water fishes like anchovy, salmon, tuna, halibut, herring, and sardines are a source of omega-3 fatty acid, are also recommended the diet to lower cholesterol. Certain nuts, including walnuts and almonds and fish oil, cod liver oil, and krill oil are also a good source of Omega-3 fatty acids.
Soya foods
Soy protein enriched foods are useful for lowering high cholesterol. American Food and Drug Administration recommends getting at least 25 grams of soy protein each day to lower high cholesterol.
What diet to avoid
Saturated fats are found in animal products such as whole milk, cream, butter, and cheese, eggs, and meats, such as beef, lamb and pork. Baked and processed foods contain saturated fats and trans fat, should be avoided.
Be Active
Find it hard to make some free time, check out some simple but effective activities you can do anytime, anywhere you want. Any movement would be better than sitting still. Pick an event you enjoy like dancing with music. Walk while you talk, use a portable phone or wireless headset and walk around the house as you carry on conversations. Vary your walking workout by climbing the stairs at home or work. Even short amounts of extra stair-climbing improve cardiovascular health. Start by adding just one or two extra trips up the stairs each day, then increase.
If you do desk work like work on the computer, roll your shoulders and stretch your neck when sitting in front of the machine. Stay fit in the kitchen, vacuum or wash the floor more often when you can't be active outside. Just be active for 10 minutes a day can improve your heart-lung function and blood circulation, reduce the risk of developing some chronic diseases later in life.
Exercise to Lower Cholesterol
The right exercise regimen can help to reduce high cholesterol, lose weight, and improve health condition. All activities like working in the yard, dancing in the living room, and cleaning house are good and improve health. People who are overweight and have high cholesterol can bring their weight down through cardiovascular exercise. The key is finding something you enjoy so that you stick with it.

Take Medicine on Time
The first line of defense against high cholesterol level is establishing healthy eating habits and being active. If for some reason these two does not prove to be enough to control high blood cholesterol level, your doctor may suggest medicines. Taking medicine may help in managing high cholesterol.
Stop smoking
If you have high blood cholesterol, you should stop smoking immediately. Smocking does not only increases your risk of heart disease, but it also destroys blood vessels and speeds up the accumulation of plaque within arteries.