5 Practical Ways Healthcare Professionals Can Take Control of their Mental Well Being
Our standard practice is to avoid the mental health of our healthcare professionals. Many platforms invite healthcare professionals to provide people with guidelines for mental health protection.
But a commoner considers a doctor's mental health issue a bit weird.
This attitude makes them reluctant to discuss mental health issues openly. But stats reveal the truth. A recent survey indicated mental health problems like emotional exhaustion, depersonalization, and reduced personal achievement in 16.3%, 16%, and 53.5% of healthcare professionals, respectively.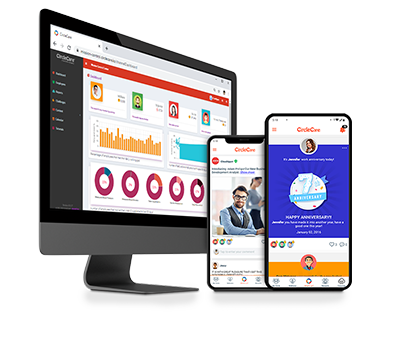 Corporate Wellness App
CircleCare
CircleCare employee engagement platform provides companies with a platform and tools to motivate their employees via positive reinforcements and rewards to establish and maintain healthy lifestyle choices.
Let's dive into the five practical ways healthcare professionals can take control of their mental well-being:
Talk to your friends.
"Sharing is Caring"
The same statement holds for mental health issues. Healthcare professionals avoid sharing their problems with friends because they think it's embarrassing. Physicians more commonly take this scenario as a question mark on their capability.
But we are all humans, and emotions similarly drive everyone. Physiology and cognitive abilities are the same for commoners and healthcare professionals. So, anyone could suffer.
You can avail yourself of the care if you share things with them. Friends are a blessing, and they play an integral role in overcoming mental health issues.
As a healthcare professional, you all need to make a phone call with a close friend or invite them. Share with them whatever is bothering your peace of mind. You will feel relieved, and your friends will understand you better. They always have something in hand that could improve your mental health. Some people do not trust others and are too reluctant to share their problems, even with close friends. In such situations, make a family member as your friend.
Reduce Workload
A survey conducted in Hungary stated that suicide rates, sleep disorders, and other mental health issues consistently increased in female physicians with the increased workload.
You can successfully control your mental well-being as a healthcare professional if you wisely choose your workplace. Money and career growth are important factors. But these things can end your life if an excessive workload ruins your mental well-being. Learn to say "NO" when you can't do more instead of suffering for your mental health. Increased workload causes physical exhaustion, leading to emotional fatigue and burnout. The workplace and its schedules have a significant impact on addressing these issues.
Some health facilities offer overtime hours. Healthcare professionals tend to book maximum overtime hours for duty, avoiding their mental well-being. As a healthcare professional, you first need to assess; the right amount of work that your mind and soul can endure. Some extra duty hours can pay you more, but nothing is worth it at the cost of your mental well-being.
Try to shuffle your shifts for mood changes. Observe yourself closely and book your off day as soon as you feel exhausted.
Distinguish between personal and Professional Life.
Healthcare professionals suffer more from mental health issues because they merge their personal and professional life. A person in every field should indeed enjoy his work. Things get better when passion and profession are the same.
But as a healthcare professional, did you ever think, "where is my personal life"?
You're coming home daily but unaware of things happening here. At the dinner table, you are not mixed up with your family. But your mind is stuck on the complex case you're facing in the hospital. Your family is happy, but you are sad about the patient for which all hopes of survival have died. If you have the same things, then your personal life does not exist. This scenario is going to cost you in the form of mental suffering. Yes, you will return to your family for that, but did you prioritize them before?
Leave your work things at the workplace for your mental well-being. Reduce distances between your family members and you. Start mixing up with your family from today, and you will realize how much you have missed till now.
Buy your home.
One more reason for continuous stress in healthcare professionals is not having their own homes. Studying and workplaces never allowed them to make a permanent residence. They become used to living in temporary places for years. But now, when you realize, in certain instances, that you don't own a home, it gives you a real headache. Your children are growing up and will ask where our house is.
Moreover, owning a home is a source of mental relaxation. You indeed have to move to various places for duty shifts, but you need a place to go when it comes to vacations or formal events. So, you spend your holidays in stress at a rental apartment.
Start your planning for a new house today. You can buy it in your hometown. Think of decorating it in an ideal way. Your own home will surely bring the mental peace you were always looking for.
Utilize Physician Mortgage Loan Service.
Having a house is a dream for everyone, but not everyone can afford this liability. This concern arises regarding healthcare professionals who have already spent most of their parents' savings. Others leave their parents in considerable debt for medical study.
This scenario becomes quite stressful when they think of buying a home. But a state based physician mortgage loan service has eased this situation to a whole extent. This service has eliminated the worries of down payment, complex documentation needs, and mortgage insurance. As a healthcare professional, you can readily take care of your mental well-being by utilizing this golden opportunity.

Various banks offer different loan plans for healthcare professionals in every field like MBBS, PharmD, MD, DVM, DDO, DPM, DC, and others. Choose your plan accordingly and free yourself from this lifelong worry.