Fun Ways to Conduct Employee Award Ceremonies
Employee award ceremonies are a great way to show appreciation to your team for their hard work and commitment. They can help promote employee morale and motivation, engagement, and teamwork. It's one of the things that modern-day businesses do to increase staff loyalty and retention.
Considering that employees are one of the biggest assets to your business, here are seven fun ways to make your next award ceremony fun and memorable in the minds of your workers.
1. Spice up Your Award Ceremony with Fun Themes
Themes can be a great way to get your employees excited about the upcoming award ceremony. Choose an appropriate theme for your award ceremony, making sure to include decorations and activities that reflect this theme.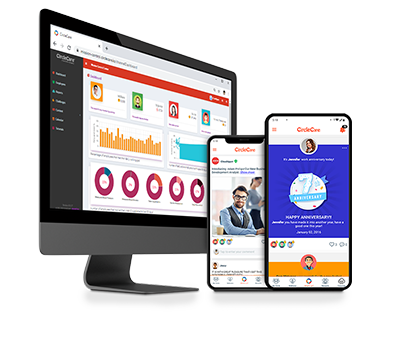 Corporate Wellness App
CircleCare
CircleCare employee engagement platform provides companies with a platform and tools to motivate their employees via positive reinforcements and rewards to establish and maintain healthy lifestyle choices.
For instance, you could consider themes such as a carnival, a tropical paradise, or a movie night. This will help create a fun and memorable atmosphere that your employees will love. 
Plus, it'll make the event more exciting and engaging. With a great theme, your award ceremony is sure to be a hit.
2. Utilize Fun Music to Get the Party Started
Music is a great way to get your employees into the spirit of the award ceremony. Consider playing upbeat music when guests arrive to get them excited and ready to celebrate. You can also use music during transitions between awards to keep the energy going.
Choose a variety of genres to keep things interesting and make sure to ask your employees for any requests. Music is sure to make your award ceremony more engaging and enjoyable for everyone!
3. Invite a Band to the Ceremony
If you want to take your award ceremony to the next level, consider inviting a band to play during the event. This will create an exciting atmosphere and make the event even more enjoyable for your guests. Choose a band that plays music that your employees will love, such as classic rock, pop, or country. They'll be sure to have a great time and leave feeling appreciated for their hard work.
4. Include Fun Competitions in the Award Ceremony
Adding competitions to your award ceremony is a great way to make it even more engaging and exciting. Consider hosting a trivia game or a friendly competition between employees. You could also have a group challenge, such as a scavenger hunt or a group puzzle. Besides adding some fun to the ceremony, it'll probably give everyone something to talk about afterward.
5. Get Creative with Awards and Prizes
Awards are what define the name of the ceremony. So, when giving out service awards, it's important to get creative and ensure the prizes you pick stand out and the awards are memorable. Consider giving out awards like "Most Improved Employee" or "Top Salesperson".
You can also give out fun and unique prizes, such as gift cards, a free lunch, or tickets to a show. Such awards and prizes are a good way to show your employees that you appreciate their hard work and make them feel special.
6. Don't Forget the Refreshments: Treat Your Employees Right
Refreshments are an essential part of any award ceremony. Provide delicious food and drinks for your employees to enjoy during the event. This will show them that you care about them and that you want them to have fun. Whether you order catering or provide snacks and beverages, or both, refreshments are a good way to make sure the atmosphere is enjoyable for everyone.
7. Spread the Cheer with a Virtual Ceremony
A virtual award ceremony is a great way to ensure no employee is left out, from remote workers to office employees who aren't able to make it to the event for one reason or the other. And, thanks to today's advancing technology, you can utilize video conferencing software to create a virtual ceremony and spread the cheer. 

Another great option would be to Livestream the event via your corporate social media channels. These can both help make the event just as engaging as an in-person ceremony
There are many ways to show your employees how much you appreciate them with a fun and engaging award ceremony. Get creative with themes, music, and prizes, don't forget the refreshments, and even consider a virtual ceremony to make sure everyone can join in the celebration. With these tips, your award ceremony will most probably be a hit!